Don't Miss What Is Happening This Weekend In Cheyenne!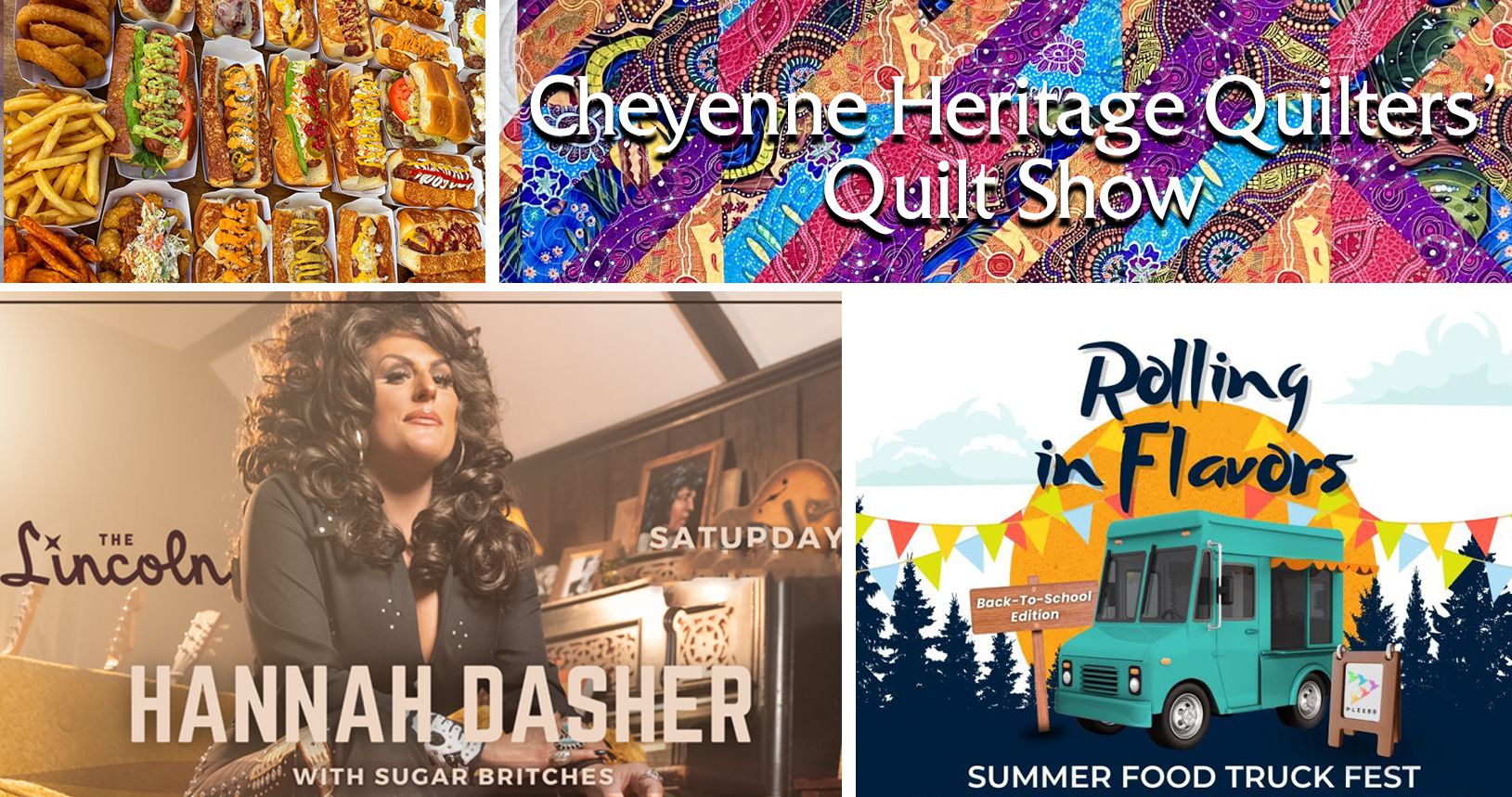 CHQ Quilt Show - First United Methodist Church
August 17,- 19, 2023 / Thursday, 3 pm - 7 p.m. / Friday, 10 am - 6 pm /
Saturday, 10 am - 3 pm
Join us at the Quilt Show to see our Opportunity Quilt, Demonstrations, Boutique and lots of quilts.
Blue Foundation Golf Tournament - Cheyenne Country Club
August 18, 2023 / 8:30am / $225/individual $900/team of four
Join us at the Cheyenne Country Club for the Blue Foundation Golf Tournament.
Fridays on the Plaza: Vanteslayedit & Pocketbook Prophet
August 18, 2023 / 5:30pm to 9:00pm / Free
Local to Cheyenne, Vanteslayedit & Pocketbook Prophet are excited to headline the Fridays on the Plaza stage!
Dog Haus Biergarten Makes Triumphant Return to Cheyenne!
August 19,- 20, 2023
Come join us August 19-20 and try our quality food, great beer, and excellent service. Eat good, feel good, and support your local charity! We hope to see you there and excited to join the Cheyenne community.
Hannah Dasher - The Lincoln Cheyenne
August 19, 2023 / 8:00pm to 11:00pm / $22
One of CMT's Next Women of Country, she's written songs for Lainey Wilson, Brad Paisley and more, but you better believe Hannah Dasher keeps the best songs for herself!
Plains to Table - Curt Gowdy
August 19, 2023 / 4:30pm to 8:00pm / $100.00
Enjoy this roaming culinary experience featuring food sourced right here in Laramie County prepared by local chefs, Seth Stefanik and Juan Coronado, along with live music and the beautiful surroundings of Curt Gowdy.
Rolling in Flavors: Back-To-School Edition - Frontier Mall
August 19, 2023 / 11:00am to 8:00pm /Free
Gather your friends and family for this unforgettable feast for the senses, with 10 food trucks to choose from!From savory to sweet, traditional to innovative, our diverse lineup of food trucks offers an incredible array of options to satisfy every craving. The Back-to-School Edition will feature special menu items, deals, and activities that capture the essence of this vibrant time.
Saturday STEAM: Kool-Aid Eruptions - Laramie County Library
August 19, 2023 / 2:30pm to 3:30pm
Children in grades 3-6 can join each month as we explore a variety of STEAM topics with crafts, games, experiments, and more.
The Cheyenne Farmer's Market - Frontier Park
August 19, 2023 / 7:00am to 1:00pm /Free
Come support a local nonprofit while shopping for fresh fruits, vegetables, cheeses, pasta sauces, baked goods, honey, kimchi, fermented foods, microgreens, coffee and more!
Mini Golf Tournament - Cheyenne Botanic Gardens
August 20, 2023 / 1:00pm /$30.00 VIP Ticket $100.00 per twosome team
Warm up your putter, grab a friend and join the Friends of the Cheyenne Botanic Gardens for a miniature golf tournament! Thirty-six twosome teams will square off to determine who will be crowned champion!
Dog Days of Summer Concert - Dog Park at the Animal Shelter
August 20, 2023 / 5:00pm to 7:00pm
Mark your calendars for Dog Days of Summer Concert! This dog friendly event will be held from 5:00 PM to 7:00 PM on August 20, 2023 at Nancy Mockler Dog Park in Cheyenne, WY, US. Sponsored by Cheyenne Animal Shelter. Admission is free; donations are encouraged.
We Got Your Back 2023 - Cheyenne Family YMCA
August 20, 2023 / 9:00am to 2:00pm / Free
We Got Your Back 2023!
This year's event will be hosted at the Cheyenne Family YMCA and again include free backpacks and school supplies for students K-12. In addition, this year's celebration will also feature

• Haircuts
• Hair Braiding
• Live Music
• Car Show
• Balloon Artist
• Pizza & Ice Cream
• Dunk Tank
• Outdoor BBQ
• And More!

at no cost and all made possible through the love and generosity of contributors across your community.