Don't Miss What Is Happening In Cheyenne This Weekend!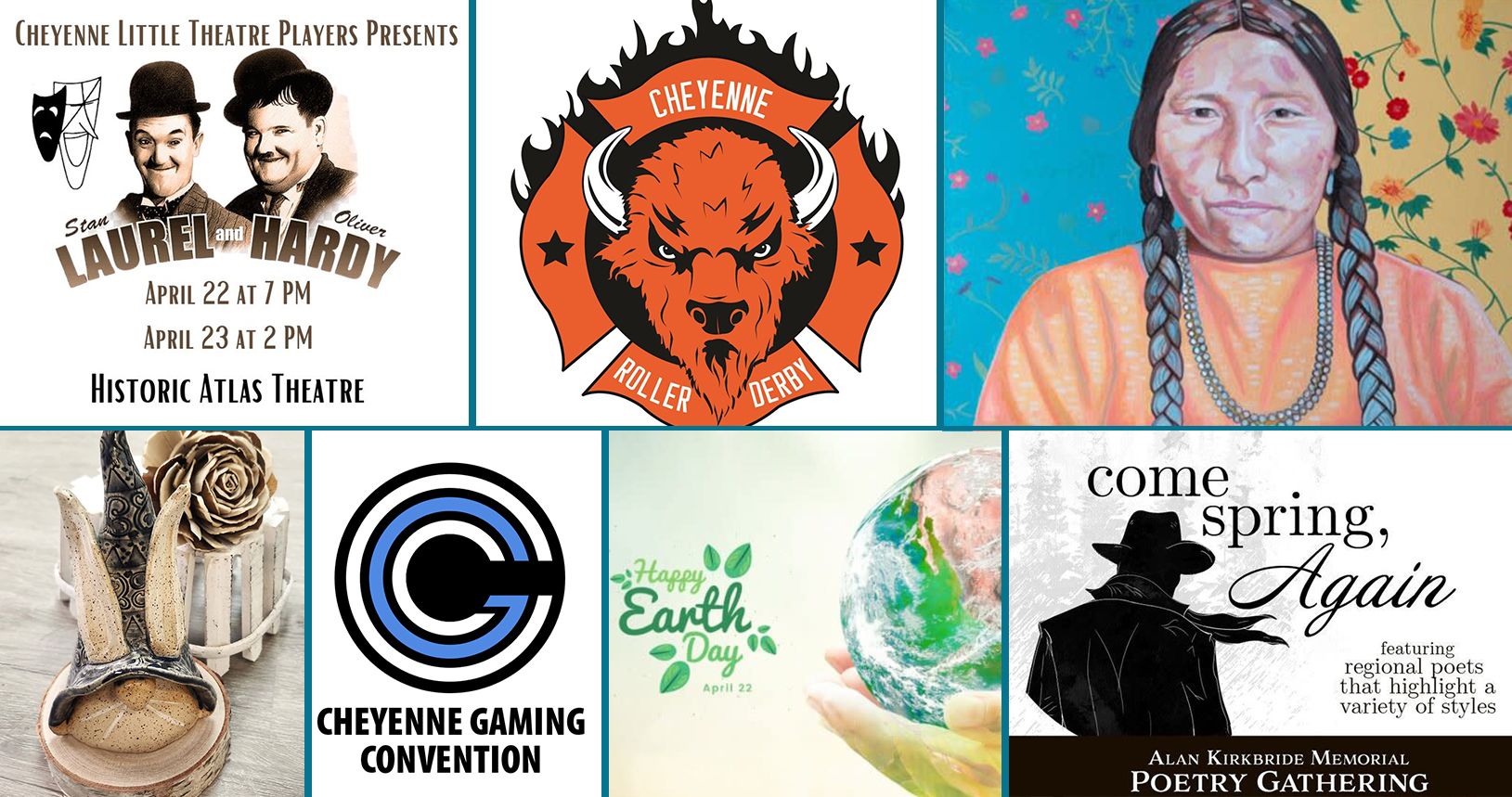 Global Exhibition Tour of Indigenous American Artists -  Wyoming State Museum
Now through May 20, 2023/ 9:00am to 4:30pm
The Wyoming State Museum will showcase "GROUNDED," a strategic and timely art exhibition organized by "ArtSpirit," the arts initiative of Episcopal Church in Wyoming, and "CARAVAN," a global arts non-profit.
Cort Ingalls - Black Tooth Brewing Co.
April 21, 2023/ 6:00pm to 9:00pm
Catch Cort Ingalls at Black Tooth!
Bunny Gnome - Silver Sage Ceramics
April 21, 2023/ 6:00pm to 9:00pm / $50
Learn how to hand-build a unique Bunny Gnome! Make it a couples night or come flex your creative muscles! Choose your glaze at the end and we will call you after the final firing.
Montessori Masquerade - Montessori School of Cheyenne
April 21, 2023/ 6:00pm to 9:00pm / $50
At the Montessori School of Cheyenne silent auction, you'll enjoy tasty appetizers and libations and our excellent silent auction items to help our children grow and thrive!
Cheyenne Gaming Convention - Red Lion Hotel & Conference Center
April 21 -23, 2023/ 8:00am to 8:00pm / $25-$129
The Cheyenne Gaming Convention returns! Presented by the Wyoming Gaming Library! More games, more vendors, more excitement!
Crafty Family Challenge - Laramie County Library
April 21 -23, 2023/ 4:00pm to 5:30pm
It's almost Earth Day! Gather your family and join us for this extreme craft challenge. This month, we will be making plant pots! Supplies will be provided (focusing on recycled materials), but feel free to bring whatever materials you like.
Beer & Paint Night - Black Tooth Brewery
April 22, 2023 / 5:00pm to 7:00pm / $40 per person
Enjoy a surprise picture, step-by-step painting tips, and therapeutic fun with the very talented, Danielle Kirby. Grab some friends and enjoy an evening with plenty of quality craft beer and creativity.
Capidolls vs. Flatrock Bout - Cheyenne Capidolls Roller Derby
April 22, 2023 / 6:00pm to 8:00pm / $10
Come see a roller derby bout! There will also be a 50/50 raffle
Ladies of the Cheyenne Shrine Club Craft & Vendor Fair
April 22, 2023 / 9:00am to 3:00pm / Free Admission
30+ vendors to shop from! A portion of proceeds go to the Cheyenne Shrine Club.
Let's Talk about Water-Wise Landscaping - Cheyenne Botanic Gardens
April 22, 2023 / 11:00am to 3:30pm / $20
Come celebrate Earth Day at the Cheyenne Botanic Gardens in the Gathering Rooms.
Silent Movies at the Historic Atlas Theatre
April 22-23, 2023 / $12
You'll enjoy 4 different short films with a short introduction with history and interesting facts.  Dave Niemann will be featured on the organ as accompaniment to the Silent Films.
The Pub Experience: Sippin' Around Downtown
April 22, 2023 / 3:00pm to 6:00pm / Free
Downtown has many drinking establishments that offer their own brews, spirits, and cocktail recipes. This FREE event will help you get a sip of what some of the downtown watering holes offer.
Water Talk with Laramie County Conservation District - Laramie County Library
April 22, 2023 / 3:30pm to 4:30pm / Free
Gain a better understanding of the big picture of water in our county for Earth Day! Join Water Specialist Jeff Geyer as he discusses water conservation and water supply and demand in Cheyenne.
Cheyenne Community Resource Fair - LCSD1 Storey Gym
April 22, 2023 / 10:000am
RESOURCES FOR HOUSING, FOOD, MEDICAL NEEDS, INSURANCE, AND MORE!
Earth Day Extravaganza At Sunshine Plant Co.
Saturday, April 22/ Noon to 4:00pm  (painting starts at 6 p.m.) / Free to attend booths, plant workshop $50 per adult & $35 per child, $37 painting.
This weekend, Sunshine Plant Co. (600 W. 17th St.) will be holding an Earth Day Extravaganza on Saturday to meet local gardening groups, visit with folks from the Botanic Gardens and enjoy a 'Plantiness' potting workshop at Sunshine Plant Co. or a painting workshop from Flydragon Design Art Studio while you're there.
Alan Kirkbride Memorial Poetry Gathering - Cheyenne Frontier Days Old West Museum
April 23, 2023 / 2:00pm to 4:00pm / $25
Poets of varied styles are gathering to bring the art of the spoken word to the Cheyenne community and beyond, all in honor of the late Alan Kirkbride's love of poetry.
Detox Retox - Freedom's Edge Brewing Co.
April 23, 2023 / 10:00am to 1:00pm / $20
Join me upon your mat for an hour long Vinyasa Flow to detox the body and mind and then have a bit of hair of the dog to retox.
Adopt an Airman WYO "Open House" - Blue Federal Credit Union
April 23, 2023 / 2:00pm to 4:00pm
Opportunity to learn more about the Chamber's Military Affairs Committee's "Adopt an Airman WYO" program.
Learn knife skills - Paris West
April 23, 2023 / 12:00pm / $25
Learn all about knives. How to hold them, how to use them, how to select them. Taught by Chef Braeden and Susan Anthony of the Prairie Pantry.
Register at info@parisinthewest.com