Don't Miss Out On The Final Weekend Of CFD Fun!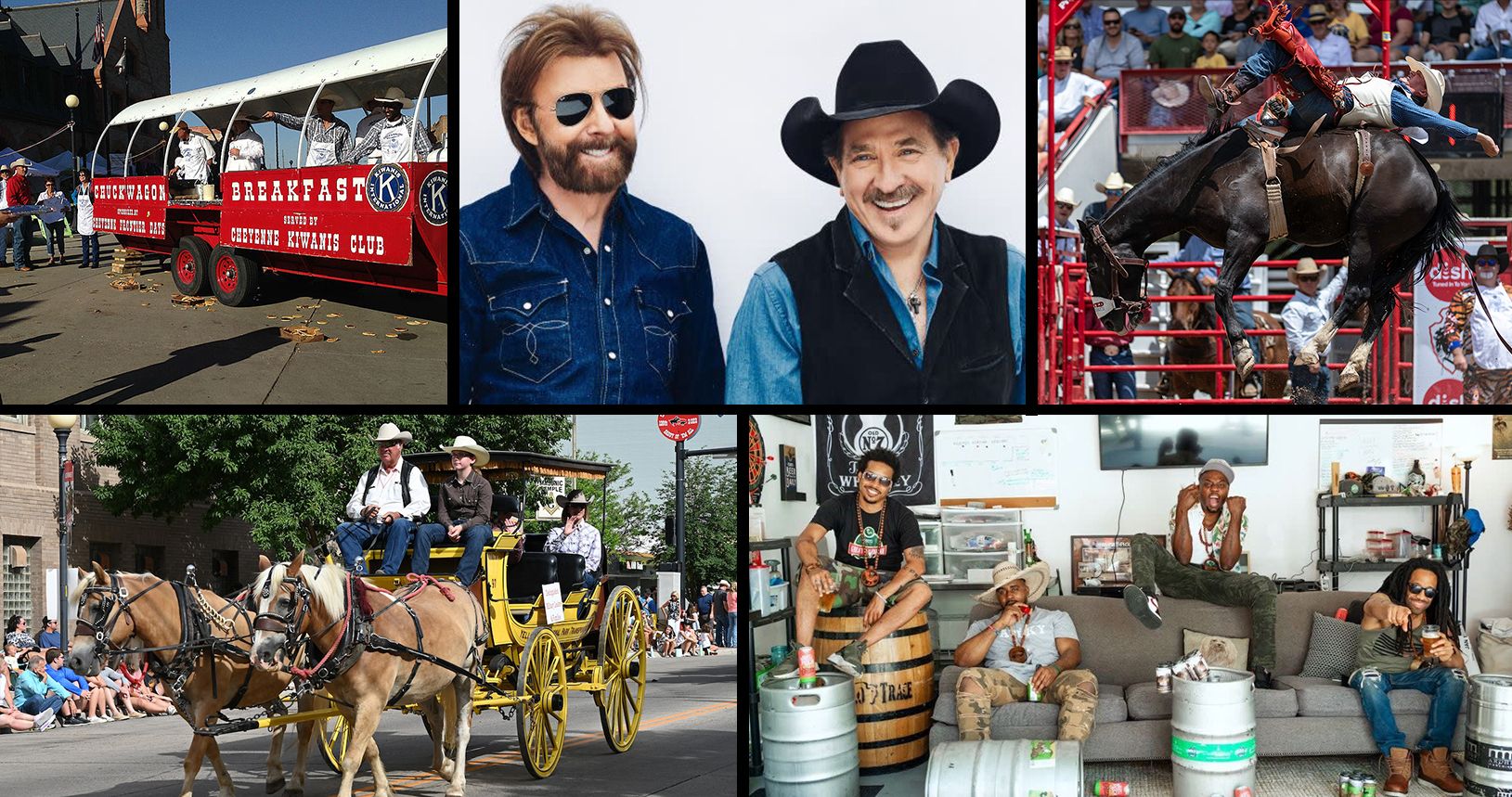 1) The 66th Old-Fashioned Melodrama - Historic Atlas Theatre
July 14, 2022 to August 7, 2022/ Monday- Saturday 7:00pm, Sunday 2:00pm, July 22-30 additional 9:00pm performances.
"Treachery Makes the Heart Grow Fonder or All's Fair in Love and Villainy or The Showdown at the Sarsaparilla Saloon". Director: Nancy Stange.
Sally Sarsaparilla is fed up with waiting for a marriage proposal from her dimwitted beau Danny DoGood, while Bella BadLove is tired of the failings of her partner Peter Pigwallop, a "bad" guy who can barely manage unpleasantly annoying. Together, they concoct a scheme to make the two men achieve success despite themselves, hoping to achieve their own dreams in the process, marriage and respectable villainy, respectively.
2) Cheyenne Frontier Days
July 22, 2022 - July 31, 2022
Cheyenne Frontier Days takes place the last full week of July.  The world's largest rodeo includes ten days of rodeo action, parades, pancake breakfasts, the U.S. Air Force Thunderbirds, and the hottest concert acts. Purchase tickets at cfdrodeo.com.
3) Corb Lund w/Sunny Sweeney - Outlaw Saloon
July 29, 2022 / 9:00pm / $10
A rural Albertan hailing from the foothills of the Rocky Mountains with a long family lineage of ranchers and rodeo people, Lund is about as authentic as they come. Before his current bandleader incarnation with the Hurtin' Albertans, Lund was an integral part of the smalls, a legendary Canadian indie rock band who didn't quite fit into any single category, either, mixing punk, speed metal and — indeed — country.
4) Fridays on the Plaza: Nappy Roots with Real Deal Music
July 29, 2022 / 5:30pm - 9:00pm / Free
Life, Liberty and The Pursuit of Nappyness: In a climate projected as one of divisiveness, Nappy Roots has joined the rest of the nation in trying to understand and work through these struggles. No stranger to challenges, this four-man collective from Kentucky tackled their obstacles and, in the process, their self-honest work emerged in form of 7 studio albums and 14 mix-tapes. As usual, Nappy Roots examine our alienable rights, reason, and truth through lyrical originality and voyage. Since Nappy Roots entered the music scene in 1998, they have remained real, humble, talented guys with inherent, undeniable southern swagger.
5) CFD Pancake Breakfast - Depot Plaza
July 29, 2022 / 7:00am - 9:00am / Free
Volunteers will serve up more than 100,000 flapjacks made from 5,000 pounds of pancake mix, serve 9,200 cartons of milk and 520 gallons of coffee, along with 630 pounds of butter and 475 gallons of syrup! Beginning at 7 a.m., free breakfast is served with a special Cheyenne "howdy" and a smile. Enjoy a free breakfast in Ol' Cheyenne with visitors from all 50 states and many foreign countries. You might help set a record!
6) Cowboy Market 2022 - Cheyenne Ice and Events Center
July 29-30, 2022 / 10:00am to 6:00pm / Free
A huge variety of handmade items from 60+ vendors —and food trucks! Make sure you stop by both weekends since there will be different vendors each weekend. This event is inside, so no need to worry about the heat, sun and dust!
7) Frontier Nights Sam Hunt with Russell Dickerson - Frontier Park
July 29, 2022 / 7:00pm - 11:00pm / $70-$105
Grammy® Award-nominee, American Music Award winner and MCA Nashville breakout star Sam Hunt has established a name for himself and is one of music's most talked about young talents.
8) Mountain Duo At Black Tooth Cheyenne
July 29, 2022 / 6:00pm - 9:00pm
Hot Guitars + Cold Beers = Your New Favorite Band at Cheyenne's Newest Brewery. DRINK THE WEST! See you there!
9) Grand CFD Parade - Downtown Cheyenne
July 30, 2022 / 9:00am / Free
Join us as people from all over the world take in the sights and sounds of some of the top marching bands and horse-drawn vehicles in the country!  The parade starts in front of the Wyoming Capitol and follows the parade route marked in red on the map.
10) Float Days - Laramie County Library
July 30, 2022 / 10:30am - 11:30am / Free
After the Cheyenne Frontier Days parade, pop into the library for root beer floats and fun float activities!
11) Beka Barry - Redwood Lounge
July 30, 2022 / 8:00pm - 10:00pm / Free
The Seattle International Comedy Competition says Beka Barry has "…the best competition set in the history of competitions!". Come check out Cheyenne's hottest comedy. No cover. Enjoy some cold drinks and hot jokes at the Redwood Lounge.
12) Frontier Nights Brooks and Dunn with Elvie Shane
July 30, 2022 / 7:00pm - 11:00pm / $70-$105
With 23 career chart-toppers and 30 million albums sold, Kix Brooks and Ronnie Dunn, of the country duo Brooks & Dunn, are the best-selling duo in country music history. They have amassed more than 80 industry awards, including two Grammy® Awards, 20 Country Music Association trophies and 27 Academy of Country Music honors, making them the most-awarded act in ACM history. They have been named Entertainer of the Year four times collectively by the ACM and CMA.
13) Nu Breed with Jesse Howard - Outlaw Saloon
July 30, 2022 / 8:00pm - 11:00pm / $10
Central Floridian Nu Breed makes down-home Southern rap with outlaw country and hard rock influences. Frequently releasing videos and singles since the early 2010s, he received wider recognition with his Billboard-charting 2020 hit "Welcome to My House," one of several collaborations with Jesse Howard.
14) Scott Rupe - Black Tooth Brewing Co.
July 30, 2022 / 6:00pm - 9:00pm / Free
Kick weekend off with the styling sounds of Scott Rupe!
15) Cheyenne Frontier Days - PRCA Rodeo Finals
July 31, 2022 / 1:00pm - 4:00pm
Cheyenne Frontier Days™ has a modified, tournament-style rodeo format. Every rodeo performance will see event money winners who will advance to semifinals and finals. Finals competition starts with a clean slate on Championship Sunday, where the highest scores and fastest times will be crowned champion!