Don't Miss Out On Concerts, Art Shows, Easter Egg Hunts, And So Much More!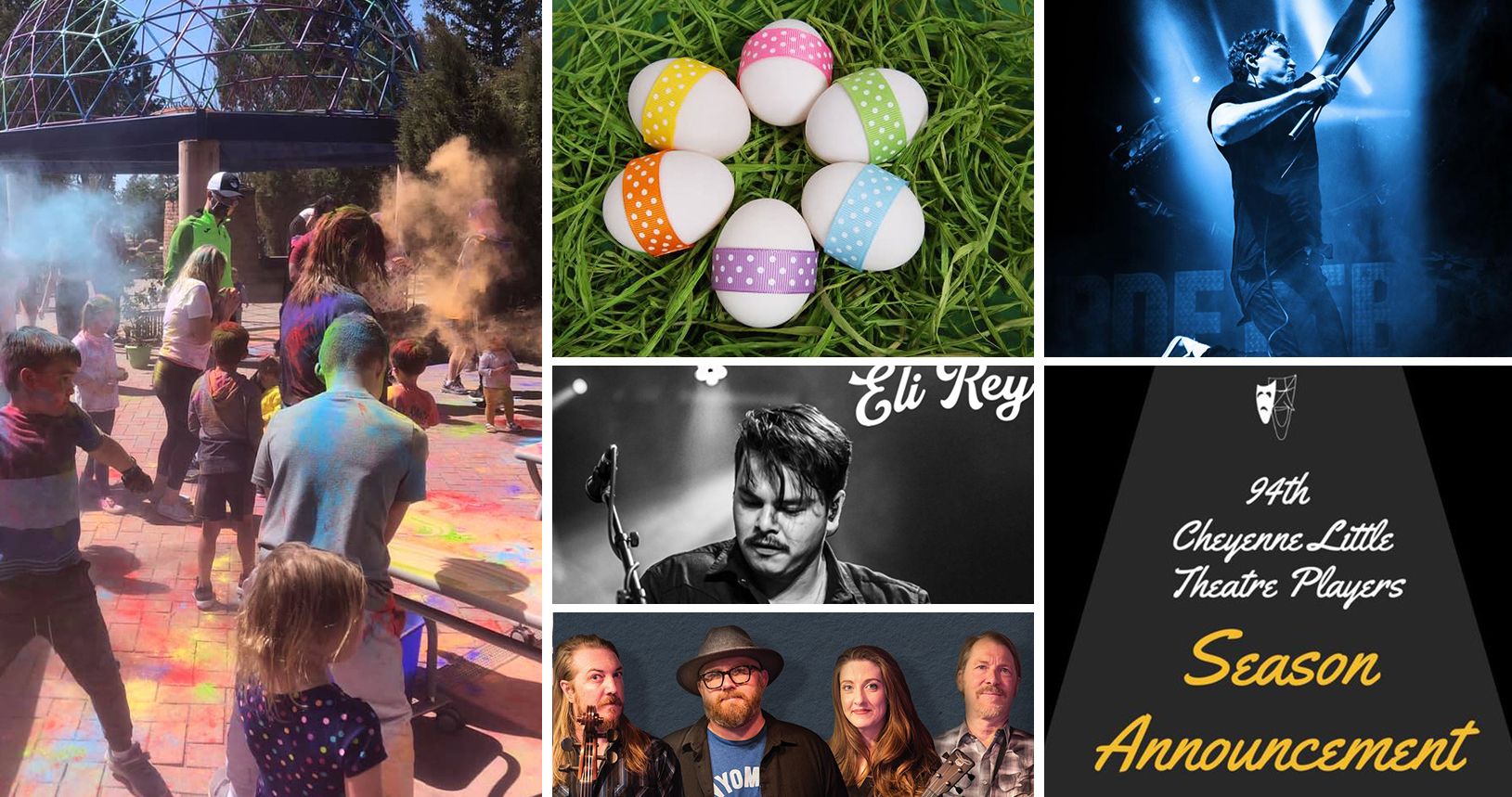 Eli Ray at Black Tooth Brewing
April 7, 2023/ 6:00pm to 9:00pm / Free
We've got Eli Rey live at Black Tooth Brewery!
CLTP Season Announcement - Historic Atlas Theatre
April 7, 2023/ Doors open at 6:00pm, Event starts at 6:30pm / Free
Join the Cheyenne Little Theatre Players for their 94th season announcement! This free event will reveal the shows that will dazzle you in the 2023-2024 season. Get a special offer when you purchase your season ticket at the event. Doors open at 6 and the event begins at 6:30!
Exhibition: The Past, The Present, and The Favorite - Cheyenne Creative Center
April 7, 2023/ 5:00pm to 8:00pm / Free
Artists in this exhibition have chosen work representing a narrative or story from their own lives; a piece that the artist considers to be their favorite artwork, and finally a piece of the artist's personal choosing.
First Friday Future Gazing - Sunshine Plant Company
April 7, 2023/ 5:00pm to 6:30pm
Plants & Tarot Readings by the incredible Maren every first Friday here at Sunshine Plant Company!
Love & Theft - Outlaw Saloon
April 7, 2023/ 9:00pm to 11:00pm / $15
Acoustic show by Love & Theft at the Outlaw Saloon
Pleasure People - The Hawthorn Tree
April 7 -8, 2023/ Friday 6:00pm to 8:00pm, Saturday 10:00am to 12:00pm / Free
Super excited to be hosting "Pleasure People" from Casper. This up and coming band recently released their new hit single Shaky Ground and features vocals by Nick Cantine and Julia Rottman accompanied by the guitar, cello, mandolin and ukulele.
Rock Art - Blue Door Arts @ the Hynds
April 7, 2023/ 5:00pm to 8:00pm
During the months of March and April, Blue Door Arts will be showing Georgia Rowswell's work inspired by Wyoming's fascinating geology. There will be an artist's reception and special guests for the March and April First Friday Artwalk. Experience the art and have fun while learning about geology.
Third Eye Blind - Cheyenne Civic Center
April 7, 2023/ 8:00pm to 10:00pm / $46+
Since 1997, San Francisco's Third Eye Blind has recorded five best-selling albums and assembled one career retrospective.
Cheyenne Art Walk - Clay Paper Scissors
April 7, 2023/ 5:00pm to 8:00pm
We'll be featuring:
our Showcase Venue for April . . Clay Paper Scissors
music, a food truck and beverages for sale
information about all the First Friday Artwalk venues
Annual Egg Hunt - Historical Governor's Mansion
April 8, 2023/ 9:00am to 9:15am / Free
Children ages 2-4 are invited to the Wyoming Historic Governors' Mansion 13th Annual Egg Hunt. Each egg will be stuffed with goodies, including a fact about the Mansion or Wyoming history! Make sure to arrive early as this event is free and eggs go extremely quickly! Ribbons are cut at 9 a.m. sharp! Guests are also encouraged to bring their own baskets, and to dress for whatever weather Spring in Wyoming can bring.
Bunny Putt - Masonic Lodge
April 8, 2023/ 10:00am to 4:00pm / $10 adults $5 kids (3-10)
Bring your family to play 18 indoor holes of mini golf in the historic Masonic Lodge in downtown Cheyenne. Enjoy sponsor decorated holes, vendors and food.  Proceeds benefit the Masonic Lodge Building Preservation Fund and Shrine Events.
Cheyenne High Spirit Holistic Show - Red Lion Hotel & Conference
April 8 -9, 2023/ 10:00am to 5:00pm / $5 or 5 non-perishable food items or personal hygiene items
Join us for a relaxing weekend with Reiki healers, tarot and angel card readers, massage, chiropractic healers. There will be many vendors and something for everyone!
Demun Jones - Outlaw Saloon
April 8, 2023/ 8:00pm to 10:00pm / $20
Check out Georgia native Demun Jones as he infuses his country inspired lyrics with hip-hop grooves.
Eggstravaganza - Laramie County Library
April 8, 2023/ 10:00am to 12:00pm / Free
Get egg-cited for our egg-straordinary annual Eggstravaganza event!
Experience Holi: The Festival of Colors! - Children's Village
April 8, 2023/ 1:00pm to 3:00pm / Free
Celebrate the coming of spring with the Festival Holi, also known as the Festival of Colors! Come learn about Holi, stories, games, and of course, colors!**In the case of rain or snow, the event will be moved to April 15**
Poetry Open Mic - The Hawthorn Tree
April 8, 2023/ 1:00pm to 3:00pm / Free
Join us for a poetry open mic. Each poet gets 5 minutes to read, but occasionally go two rounds, so bring extra poems. Arrive 5 minutes early to sign-up.