Don't Miss All Of These Fun Holiday Events Happening This Weekend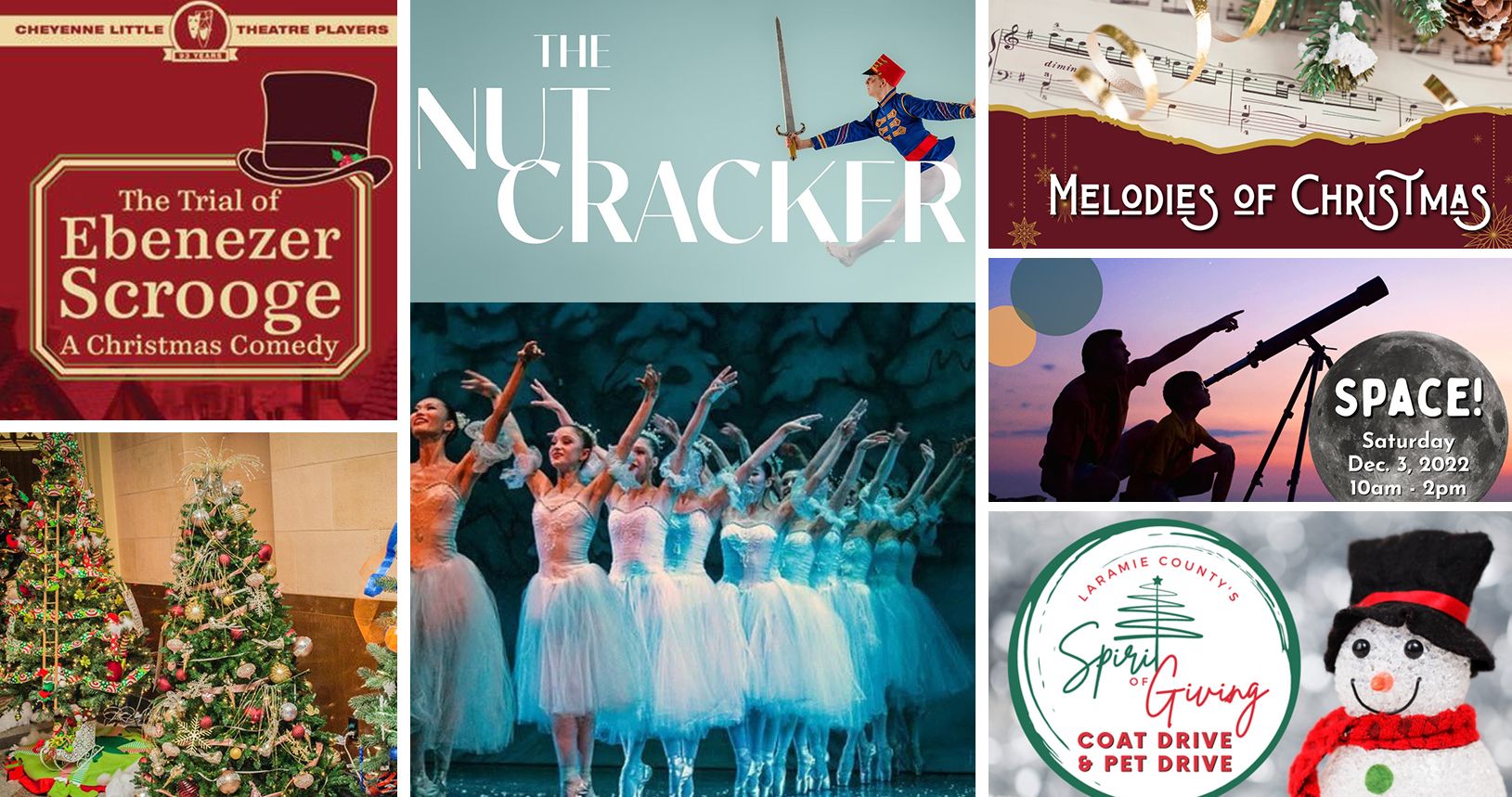 1) 54th Annual Christmas House -6701 Big Sky Trail
December 2-3, 2022 / 9:00am - 7:00pm on 2nd, 9:00am - 3:00pm on 3rd / $6.50
Christmas House has been the annual fundraising project of Women's Civic League for the last 54 years. WCLC is a non-profit organization and Christmas House proceeds benefit local organizations and projects in Laramie County, Wyoming. There are few non-profit organizations in the community that have not benefited from the hard work, dedication, and generosity of our members. Parking will be at Calvary Chapel Church at 9209 Ridge Road. Cheyenne Trolley will provide transportation to and from the church to the house location. A tea room will also be located at the church.
2) The Trial of Ebenezer Scrooge - Historic Atlas Theatre
December 2 -4, 9-11, 16-18/2022 / $14.50-24.50. Dinner theater $26-48
A year after his miraculous transformation, Ebenezer Scrooge is back to his old ways and is suing Jacob Marley and the Ghosts of Christmas Past, Present, and Future. Bob Cratchit, Scrooge's nephew Fred, solicitor and philanthropist Sara Anne Wainwright, and the ghosts themselves take the witness stand to give their account of the night in question. In a staggering turn of events, Scrooge makes the spirits an offer: work every day, not just one day a year, and he'll drop the charges. It's the trial of the century and you need to be there. Dinner theater options are available December 3, 9, 10, 16, and 17.
3) Tinsel Through Time - Melodies of Christmas, Historic Governors' Mansion
December 1 -24, 2022 / 9:00am to 5:00pm / Free
This year's theme is Melodies of Christmas and is inspired by some of the classic songs of the holiday. Make sure you stop by to enjoy everyone's favorite time of year at the Historic Governors' Mansion! The first level of the mansion is accessible via a ramp along the west side of the building.
4) Cheyenne Holiday Market Extravaganza - Frontier Mall
December 2-4, 2022 / 10:00am - 6:00pm / Free
Join us for a day full of holiday shopping with 30 local vendors, giveaways, pictures with Santa, holiday music, and more.
5) Magic City's Annual Festival of Trees - Little America
December 2, 2022 / 6:00pm - 10:00pm / $75/individual
The annual Festival of Trees is the premier holiday event on the first Friday in December. Dress in your semi-formal attire and join us at Little America to celebrate the beginning of the most wonderful time of the year. At this elegant Christmas event, enjoy dinner and cocktails, a live and silent auction, music and raffles, and most importantly, bid on our beautiful custom-decorated Christmas trees to support Magic City as we support individuals with disabilities to live successfully.
6) Spirit of Giving Coat and Pet Drive - Laramie County Fair Complex at Archer
December 2, 2022 / 8:00am - 8:00pm
Coat Drive: Spread the warmth this winter by donating new or gently used coats, winter hats, gloves and boots for those in need. Donations benefit the youth in the Laramie County School Districts. Pet Drive: Bring a pet toy, food, or supplies to the collection bin in the lobby of the Event Center at Archer. Donations help support the Cheyenne Animal Shelter.
7) Cheyenne Art Walk - Freedom's Edge Brewing
December 2, 2022/
Featuring:
8) Mountain Duo At Black Tooth
December 2, 2022 / 6:00pm - 9:00pm
Hot Guitars + Cold Beers = Your New Favorite Band at Cheyenne's Newest Brewery. DRINK THE WEST! See you there!
9) Canyon Concert Ballet presents: The Nutcracker - Cheyenne Civic Center
December 3, 2022 / 2:00pm, 7:00pm
Audiences will be swept up in the magic of the season as Canyon Concert Ballet brings to Cheyenne this annual classic holiday favorite.
10) Alta Vista Craft Fair
December 3, 2022 / 9:00am
Alta Vista Elementary PTO presents their 31st Annual Holidayfest Craft Show. Over 40 booths featuring unique crafts, jewelry, knitting, food, and so much more!
11) Tree of Remembrance Lighting Ceremony - Davis Hospice Center
December 3, 2022 / 1:30pm
Cheyenne Regional Medical Center Hospice and the CRMC Foundation are hosting the 27th annual Tree of Remembrance lighting ceremony on December 3 starting at 1:30 p.m. in the Davis Hospice Center.
12) Community Coffee Class - Snowy Elk Coffee Co.
December 3, 2022 / 8:00am - 9:30am / $25
Ready to make fresh, quality coffee at home? Cheyenne's hometown coffee roastery is offering a community class that will provide you with the skills and knowledge to make the perfect cup of coffee in your own kitchen. This class is open to the public. Register and save your seat (required).
13) Family Day: Space - Wyoming State Museum
December 3, 2022 / 10:00am - 2:00pm / Free
Find out what it takes for humans to get to space, and what we can discover while we're there. Meet real scientists from the UW Physics and Astronomy and the Wyoming NASA Space Grant Consortium, while enjoying out-of-this-world crafts and activities. Reserve your spot today.
14) Running of the Santas 0.5K
December 3, 2022 / 1:00pm - 2:00pm / $25
It's the coolest race of the year! All participants MUST be wearing at least a Santa hat during the race, but we encourage you to go all out! Racers must present a valid photo ID at registration if they intend to consume alcohol at our race stations (non-alcoholic options will also be available at each station).
15) Tinsel Through Time Children's Holiday Tea
December 3, 2022 / 1:00pm - 2:00pm / Free
Join us for a special celebration with the children. Ages 5-10 with accompanying adult. RSVP only.
16) Winter Farmers Market - Depot Lobby
December 3, 2022 / 9:00am - 1:00pm / Free
Spend a Saturday morning and find the best local foods and crafts.
17) Denver Broncos vs Ravens Sunday, December 4th at 11:00am