Don't Miss All Of The Fun Events Happening This Upcoming Weekend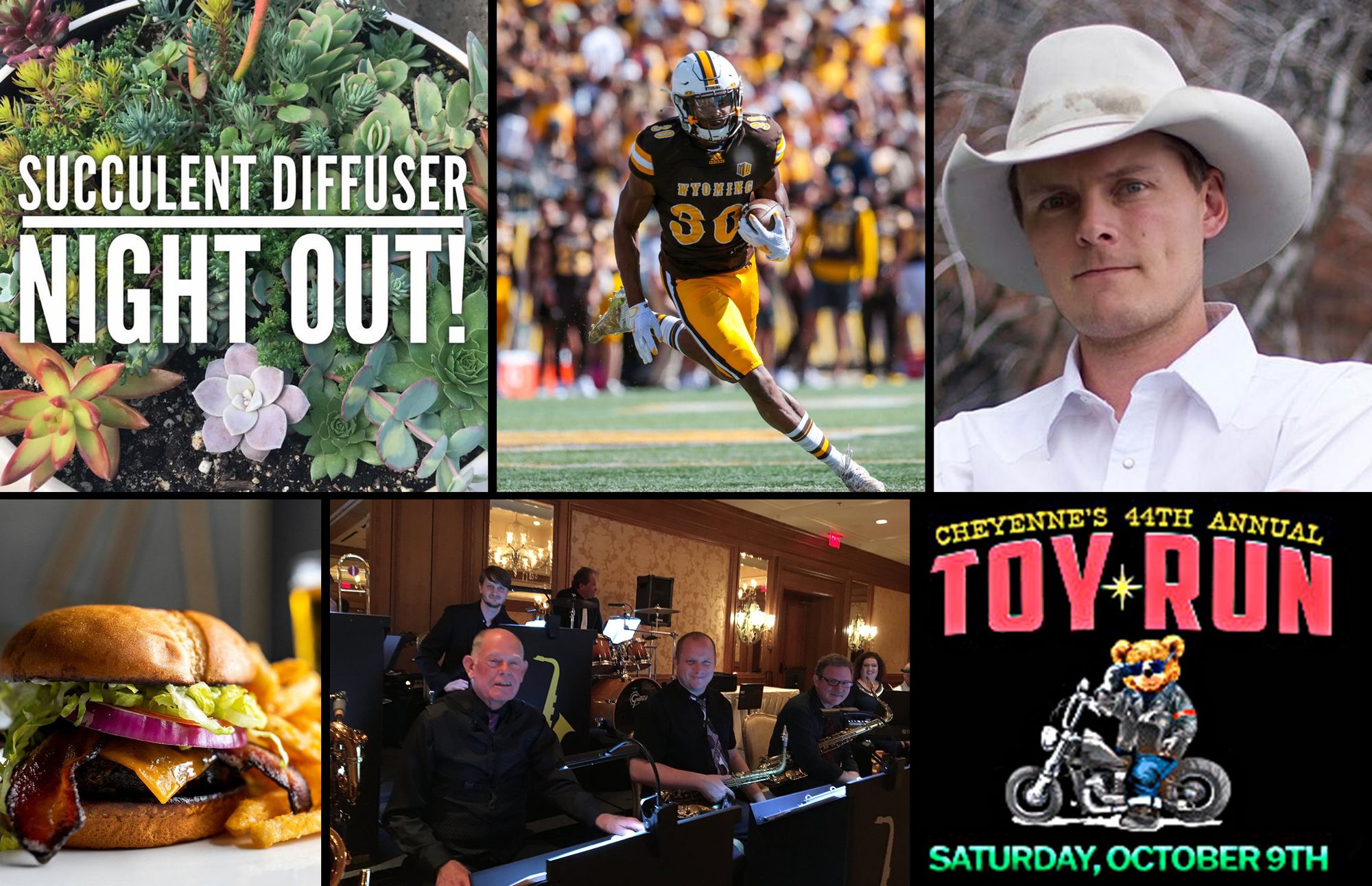 1) PARANORMAL TOURS OF THE CFD OLD WEST MUSEUM
October 7, 2021 - October 28, 2021, recurring weekly on Thursday                   6:30pm to 8:30pm / $20
Haunting Across America is working with the CFD Old West Museum to host Paranormal Tours every Thursday this October, with a special tour on Friday, October 29th for Museum Members Only. See what's lurking within the Museum walls!
2) SUCCULENT GARDEN NIGHT OUT - Dillinger's
October 7, 2021 / 7:00pm to 9:00pm / $35
Create a succulent garden with an oil diffuser to take home.
3) FLIPTURN WITH HAIVA RU - The Lincoln
October 7, 2021 / 8:00pm / $15
Join the Lincoln Cheyenne for a concert that will capture the mind and soul with Flipturn.  General admission tickets are only $15 for a night that is sure to blow you away!
4) MAMMA MIA! - Mary Godfrey Playhouse
October 1, 2021- October 10th, 2021 / Tickets Required $14-24
The Cheyenne Little Theater Players are performing Mamma Mia from September 24th thru October 10th. A mother. A daughter. Three possible dads. And a trip down the aisle you'll never forget!
5) CHEYENNE TROLLEY FRIGHT-SEEING TOURS - Cheyenne Street Railway Trolley
October 1, 2021 - October 31, 2021, recurring weekly on Sunday, Friday, Saturday 6:00pm to 10:00pm / $15
From gruesome murders to unexplainable phenomena, this 70-minute tour will leave you wondering what is imagined - and what is truly real. Ages 10+. Two tours depart nightly at 6pm and 8pm. Purchase tickets in advance.
6) NIGHTMARE ON 17TH STREET - Knights of Pythias Lodge
October 1, 2021 - October 30, 2021, recurring weekly on Friday, Saturday          7:00pm to 11:00pm / $10
Located in a verified haunted location, the historic Knights of Pythias building, this site brings attendees through a self-guided experience through 15 horrific rooms. The individual themes run the gamut from classic scares to modern terror.
7) AFRICA MAAFA REMEMBRANCE DAY- Laramie County Community College
October 9, 2021 / 8:30am to 12:50pm / Free
Debunk racial myths and divisive assertions that nullify community relations and hinder social development
8) BIG BAND DANCE - Little America Hotel and Resort
October 9, 2021 / 7:00pm to 10:00pm / $87 per Couple, $46.00 Singles includes Dinner and Dance
Cheyenne Dance Club is hosting a Big Band Dance in the Wyoming Room of Little America.
9) HALO 3 TOURNAMENT - The Annex Gaming Cafe
October 9, 2021 / 10:00am to 5:00pm / $15 Player, $30 Team
Duo Slayer. Registration fees are collected when you enter
10) JOHN FULLBRIGHT LIVE IN CHEYENNE - Terry Bison Ranch
October 9, 2021 / 7:00pm to 10:00pm
Grammy nominated singer John Fullbright is bringing his band for an evening of Americana music with Shawn Hess & Country Skillet plus Hunter Hicks.
11) NED LEDOUX - Outlaw Saloon
October 9, 2021 / 7:00pm to 10:00pm / $15
Hoping to carry on his dad's legacy, Ned LeDoux is back on tour singing his dads hit and new songs of his own.
12) Cheyenne's 44th Annual Toy Run - High Country Harley-Davison of Cheyenne
October 9, 2021 /9:00am to 2:00pm
Join High Country H-D for the 44th Annual Cheyenne Toy Run! The entry fee for this ride is one new, unused toy to donate to a young girl or boy in need. The Salvation Army Cheyenne Corps will be on site to collect toys and providing coffee in the morning. Food Truck (Pioneer Bar-B-Que) and Music from 45ive Entertainment after! Registration starts at 9am. KSU at 11am.
13) STRETCH AND SIP - The Metropolitan Downtown
October 9, 2021 / 11:00am to 1:30pm / $38
Come enjoy an hour long yoga class led by Theresa Hansen, followed by brunch and breakfast cocktails.
14) 2021 CHEYENNE FARMERS MARKET - B Parking Lot
Frontier Park
August 14, 2021 - October 9, 2021, recurring weekly on Saturday                          7:00am to 1:00pm
Community Action of Laramie County and the Cheyenne Farmers Market, in conjunction with Cheyenne Frontiers Days, are thrilled to announce that the 2021 Cheyenne Farmers Market will return to B Lot at Frontier Park. CFD has once again generously donated their space for the 2021 Market.
15) OCTOBERFEAST - Various Restaurants
October 10, 2021 - October 16, 2021, recurring daily / 6:00am to 11:00pm
Seven days of your favorite restaurants, and the ones you've always wanted to try, offering exceptional pricing on special menu items. More info and list of participating restaurants at cheyennerestaurantweek.com.
16) 29TH ORGAN CONCERT SERIES - Cathedral of St. Mary
October10,2021 / 2:00pm
Acclaimed organist and music scholar Dr. Damin Spritzer, of the University of Oklahoma will perform on the Vissser-Rowland Tracker Organ. The doors open at 1:00pm. Spritzer, Area Chair and Associate Professer of Organ at the University of Oklahoma, will play works by Locklair, Cabanilles, Bach and Balbastre. A camera feed from the loft will enable everyone to watch Spritzer's performance on the keyboards and the pedal board.
17) WYOMING COWBOYS  - October 9th at 5:00pm against Air Force Falcons
18) DENVER BRONCOS - October 10th at 11:00am against Pittsburgh Steelers