Delicious Pumpkin Dessert Recipes To Help You Jump Into Fall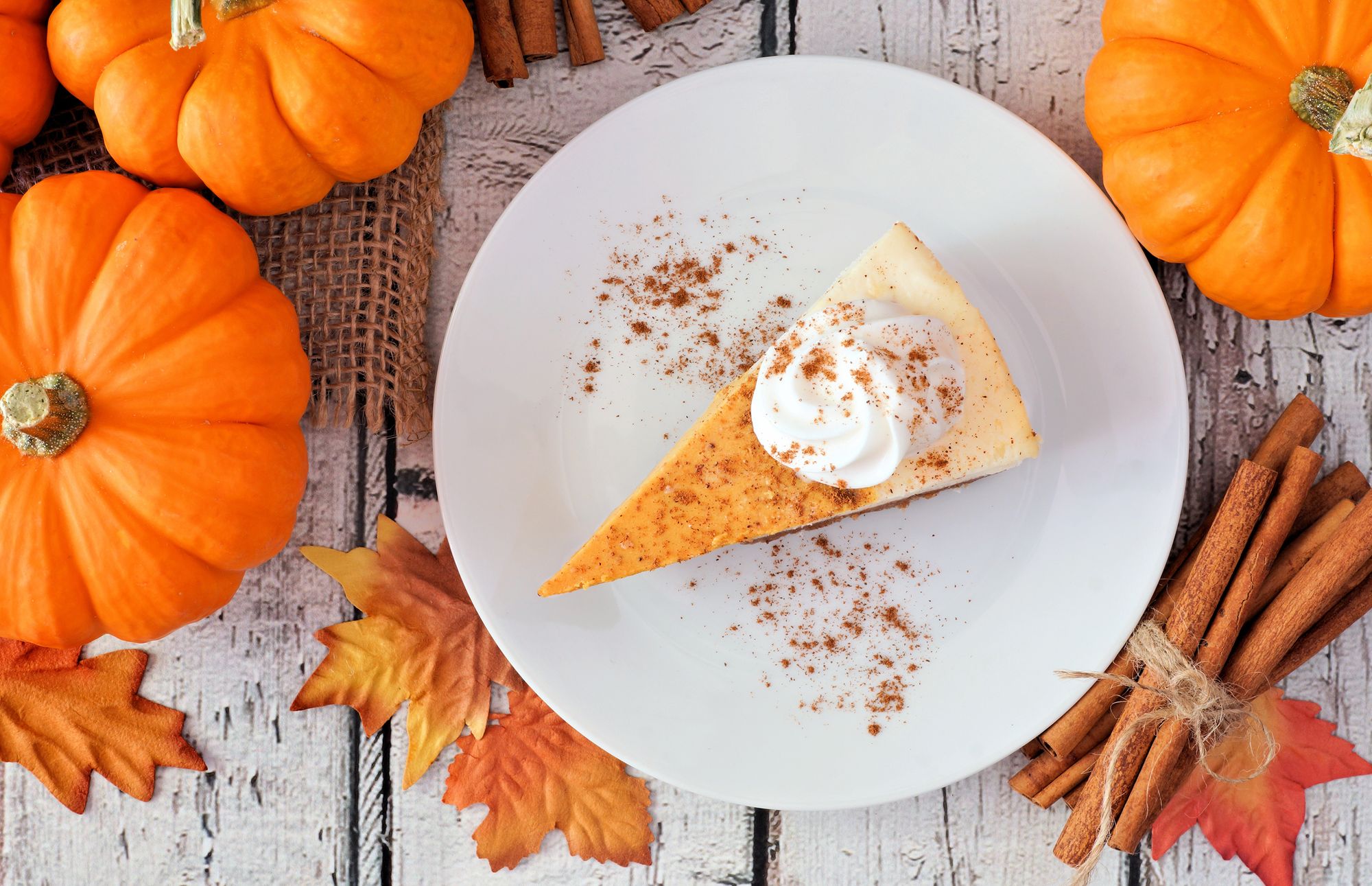 The transition from summer to fall can be hard with the days getting shorter, and the temperatures getting cooler. However there are some pretty great things about fall as well, such as the leaves turning beautiful colors and of course you can't forget about pumpkins. To help make the seasonal transition a little easier, here are two wonderful pumpkin recipes that will get you excited about cooler temperatures.
Pumpkin Bundt with Cinnamon Streusel and Salted Caramel
This Bundt cake is a triple threat, with a moist pumpkin base, a sweet brown sugar streusel, and generous topped with salted caramel sauce. This will be the cake you'll want to make this fall no matter the occasion.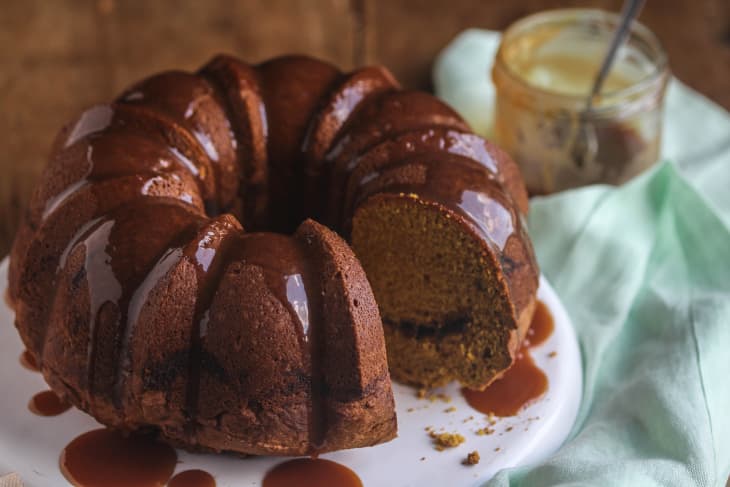 INGREDIENTS
For the cake:
3 cups all-purpose flour
1 tablespoon pumpkin pie spice
2 teaspoons baking powder
1 teaspoon baking soda
1/2 teaspoon fine salt
1 cup (2 sticks) unsalted butter, at room temperature
2 cups granulated sugar
3 large eggs
1 (15-ounce) can pumpkin purée (not pumpkin pie filling)
1 teaspoon vanilla extract
For the salted caramel sauce:
1/3 cup granulated sugar
1 tablespoon water
1/2 cup heavy cream, at room temperature
1 tablespoon unsalted butter
1/2 teaspoon fine salt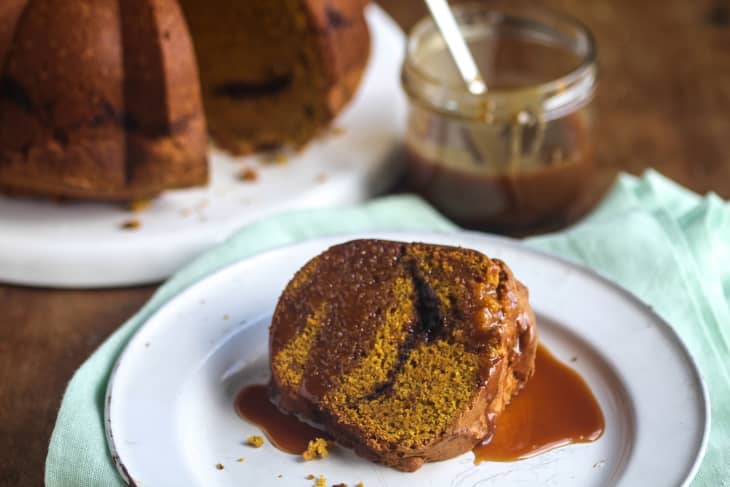 INSTRUCTIONS
Arrange a rack in the middle of the oven and heat to 350°F. Generously butter and flour the sides and tube of a 12-cup Bundt pan or coat with cooking spray; set aside.
Make the cinnamon streusel:
Mix the sugar and cinnamon together in a small bowl; set aside.
Make the cake:
Whisk together the flour, pumpkin pie spice, baking powder, baking soda, and salt in a medium bowl.
Place the butter and sugar in the bowl of a stand mixer fitted with the paddle attachment. (Alternatively, use a large bowl and hand mixer.) Beat on medium-high speed until fluffy and lightened in color, about 3 minutes. Add the eggs one at a time, beating until each is incorporated. Beat in the pumpkin purée and vanilla extract, scraping down the sides of the bowl as needed.
With the mixer on low speed, add the flour mixture and beat lightly, just until flour is no longer visible.
Transfer half of the batter to the prepared Bundt pan and spread into an even layer. Sprinkle the cinnamon streusel over the batter in an even layer. Top with the remaining batter.
Bake until the cake springs back to a gentle touch and a toothpick inserted into the center comes out clean, 55 to 60 minutes. Cool for 10 minutes in the pan on a wire rack. Flip the cake out onto the rack and cool completely. While the cake cools, prepare the salted caramel sauce.
Make the caramel:
Heat the sugar and water over high heat in a medium saucepan, stirring until the sugar is dissolved. Cook undisturbed until the sugar turns golden-brown, 8 to 10 minutes. Remove the pan from the heat and pour in the cream. Be careful, as the mixture will sputter and bubble up. Whisk until the bubbling subsides.
Add the butter and salt and whisk until they're fully incorporated. Set the sauce aside and cool to room temperature, about 30 minutes. It will thicken as it cools. Transfer the sauce to a jar, seal, and store in refrigerator until ready to serve with the cake.
No-Bake Pumpkin Cheesecake
This no-bake cheesecake is a major time saver with this no-bake option. The gingersnap crust is a must and adds that extra layer of fall that everyone will love.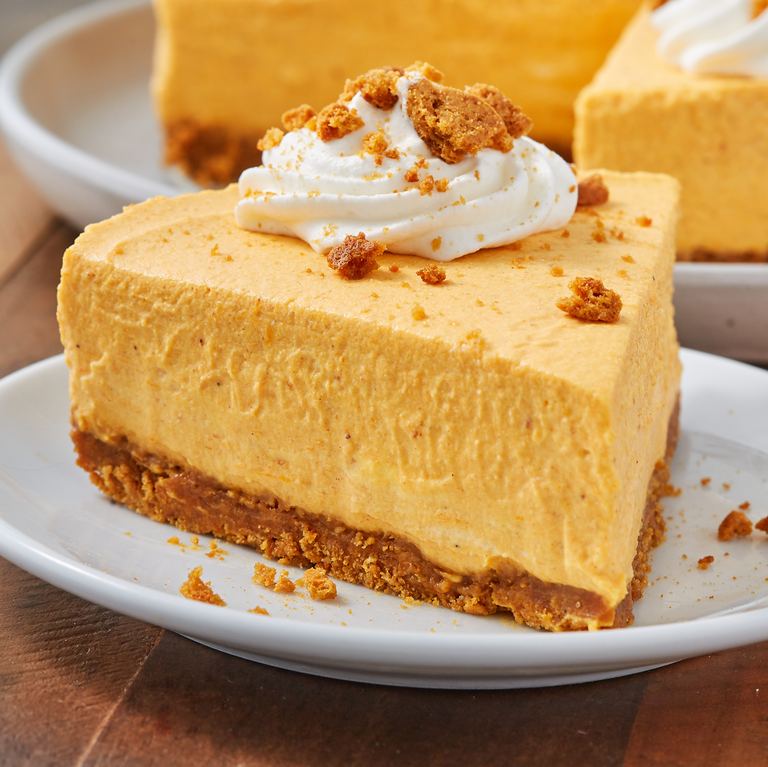 INGREDIENTS FOR THE CRUST
1 1/2 c. finely crushed gingersnaps
2 tbsp. granulated sugar
5 tbsp. butter, melted
FOR THE FILLING
1 c. heavy cream2
(8-oz.) blocks cream cheese, softened
1 (15-oz.) can pumpkin puree
1 c. powdered sugar
1 tsp. pure vanilla extract
1 tsp. cinnamon
1/2 tsp. ground nutmeg
1/4 tsp. kosher salt
FOR TOPPING
Whipped cream
Roughly crushed gingersnaps
DIRECTIONS
In a medium bowl, combine crushed gingersnaps, sugar, and melted butter until mixture resembles wet sand. Pour into a 8" springform pan and pat into an even layer.
In a medium bowl, beat heavy cream to stiff peaks.
In a large bowl beat cream cheese until light and fluffy. Add pumpkin puree and beat until no lumps remain. Add powdered sugar and beat again until no lumps remain. Add vanilla, cinnamon, nutmeg, and salt and beat until incorporated. Add whipped cream and fold in until just combined. Pour batter over crust and smooth top with an offset spatula.
Refrigerate until set, at least 4 hours and up to overnight.
Serve with whipped cream and crushed gingersnaps.