Cheyenne Has A New Gift Shop Featuring Local Artists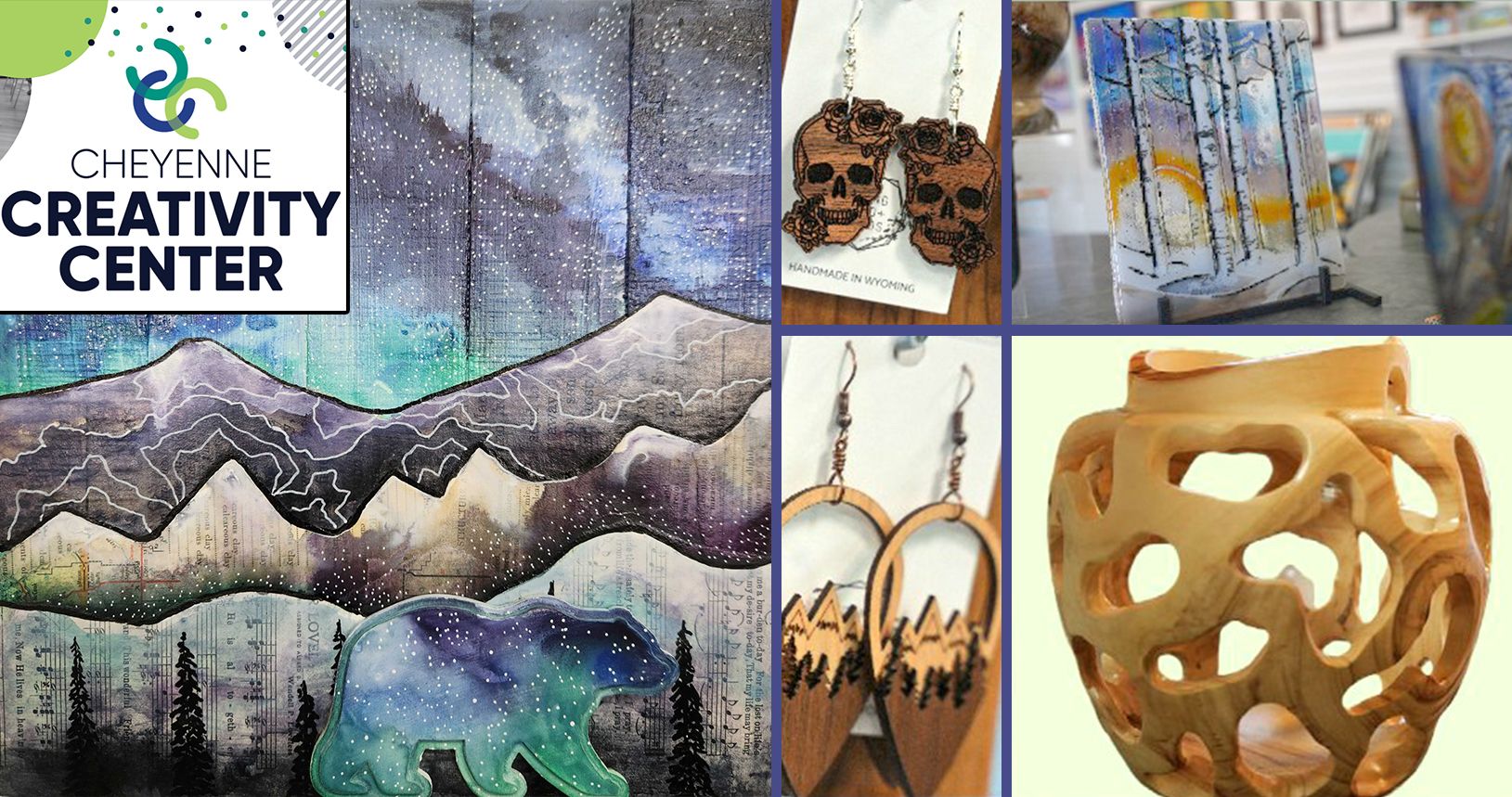 The new Cheyenne Creativity Center, which is an arts center for the Cheyenne Community, now has a gift shop that sells art and craft items created by local and regional artists! The gift shop will be featuring a large variety of wonderful art to choose from such as: sculptures, paintings, drawings, printmaking, jewelry, basketry, ceramics and much more. These high quality and creative works of art will be for sale on a rotating display at the gift shop located at 1620 Thomes Ave. The gift shop will be open on Tuesdays - Thursdays, Noon to 6:00pm; Fridays, Noon to 5:00pm; and on Saturdays from 10:00am to 5:00pm.
Here are some examples of the great pieces of art you will find at the Cheyenne Creative Center gift shop: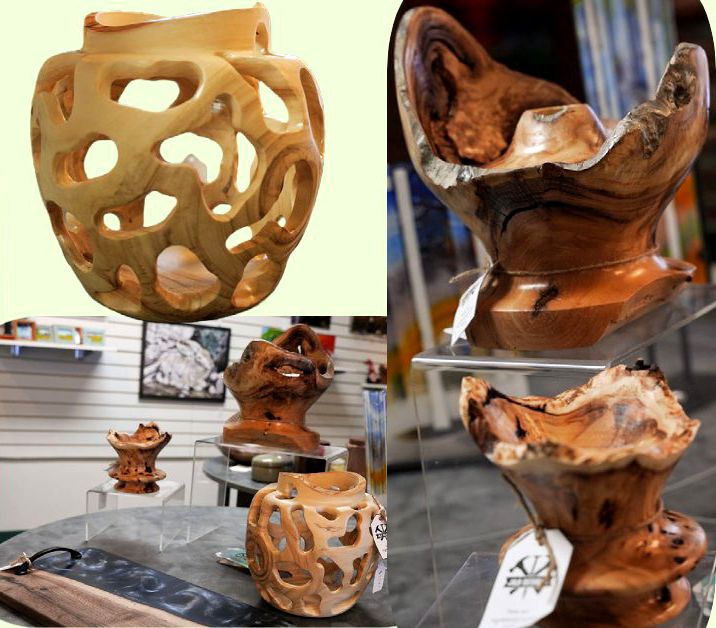 J & B Designs, owned by Josh and Beth Buettner, run a home wood-turning/wood-working studio, where they hand carve every item they send out the door. They create beautiful works of art just waiting to be displayed in your home. The duo takes commissions, while also running an online store for all to check out! J&B Designs have 80+ pieces for sale on their Etsy storefront:
www.etsy.com/shop/JandBDesignsWYO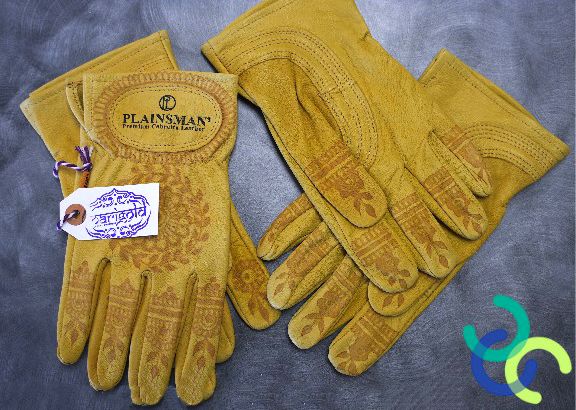 Marigold Global is owned by Annalee Irani, a Cheyenne native whose artistic mediums are inspired by her travels from around the world. Annalee takes inspiration from many regions, but designs from India and Morocco stand out the most. Henna is one of her favorite mediums, and can be seen on these beautiful leather gloves. Check her out on Facebook: Marigold Global Boutique, LLC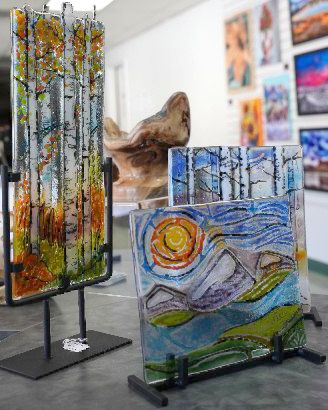 Beth Cleary Fine Art invites us into her world of fusion! Beth has a combination of degrees in chemistry and a M.F.A. in sculpture with a love of experimentation.
She states: "My aim is to add layers of meaning through each stitch and collaged element. The joy of creating with my hands and from my heart motivates each one of my works of art." Take a look at Beth's art work during the gift shop during regular hours and go to bethclearyfineart.com.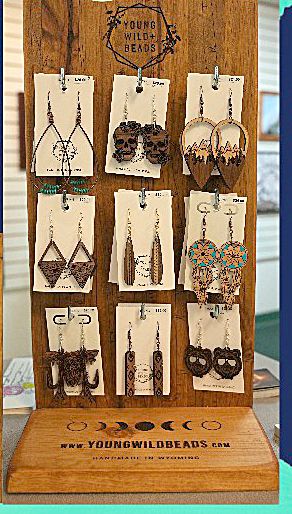 Beth Gunthardt, owner and crafter at Young Wild + Beads, is a wonderfully talented jewelry artist, who works in many mediums (glass, wood, leather, etc). Not only does she have pieces to buy, but she also takes custom orders through her website. Her beautiful designs are sold at the CCC gift shop during operational hours and events, and on her website: https://youngwildbeads.com/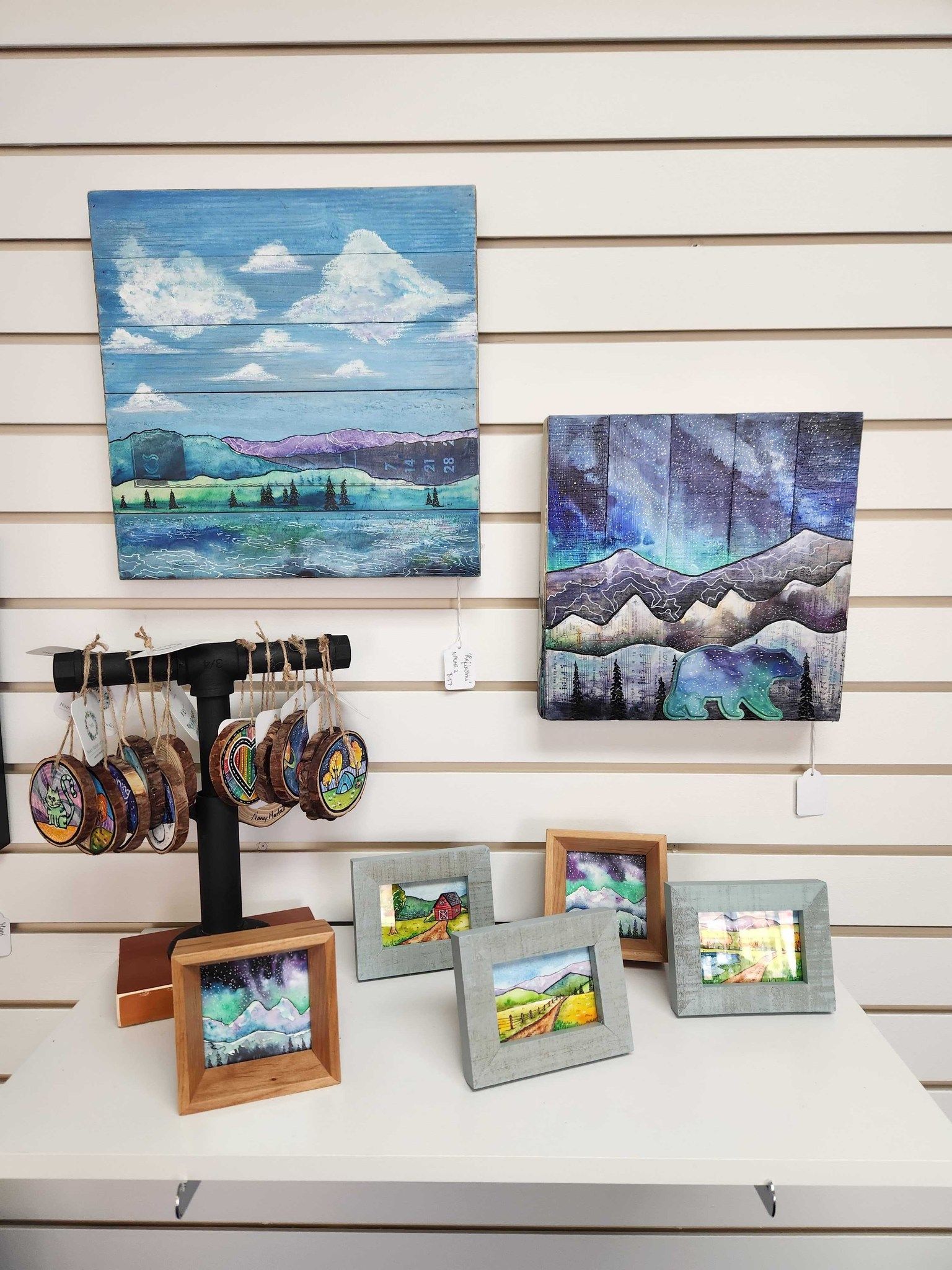 Step into the miniature worlds created by artist Nancy Marlatt. Nancy uses repurposed materials in combination with watercolor, gouache, and ink to create ephemeral and absorbing scenes that seek to challenge the idea of what is considered "normal?" Nancy states: "Drawn to water and all things paper, translucent mediums are a natural fit for my interests. I am particularly fond of watercolors, diluted acryics, and substrates of all types. The pen and ink line details are a reminder of children's book illustrations I adored as a young child." You can visit Nancy's work on display at the gift shop or you can also view more of Nancy's work at nancymarlatt.com.