Check Out Over 20 Fun Things To Do This Weekend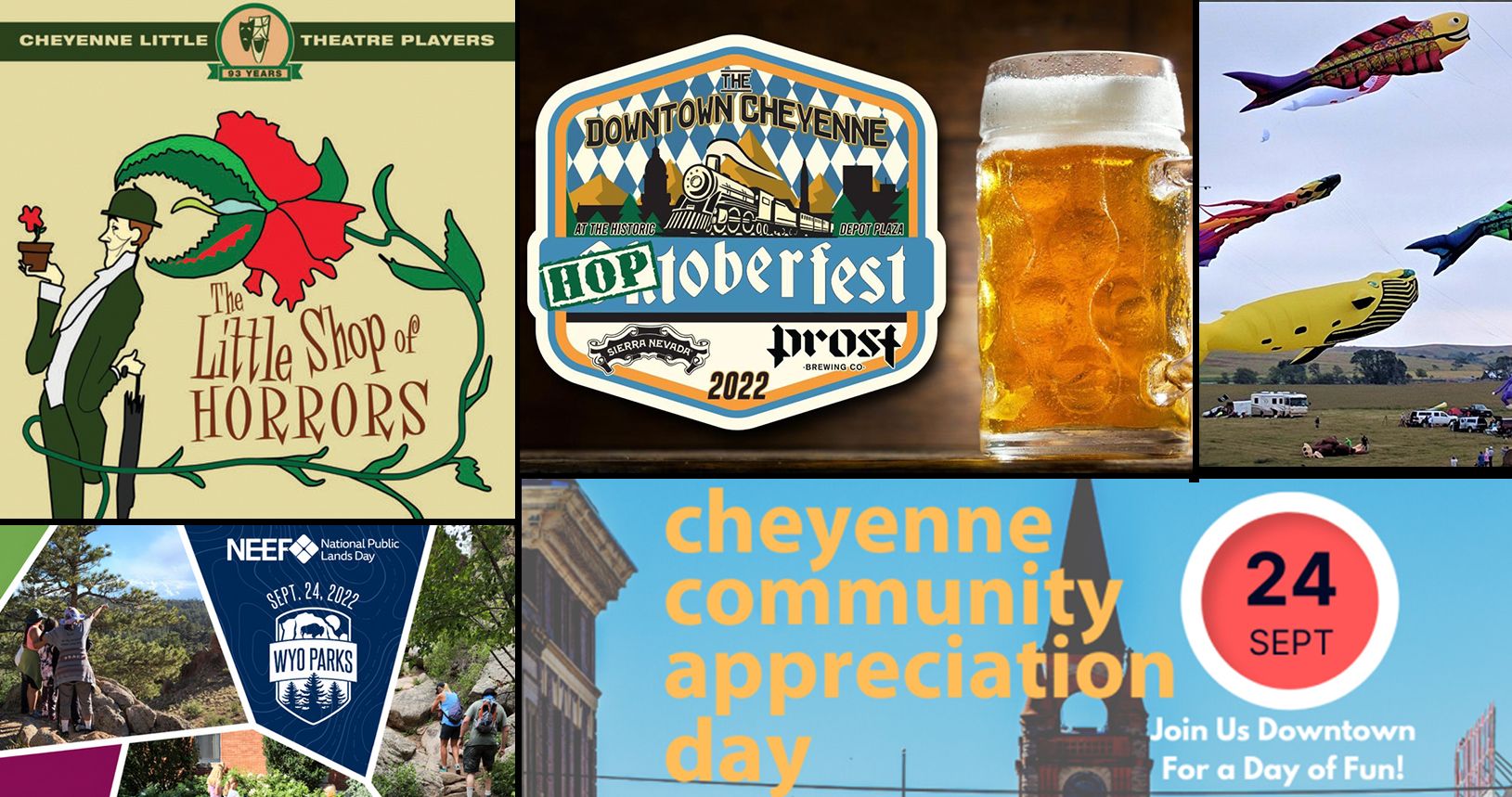 1) The Little Shop of Horrors - Atlas Theatre
September 23 - 25, 29, October 1-2, 7-9, 2022 / $14-$50
Little Shop of Horrors is a delectable sci-fi horror musical with an electrifying 1960s pop/rock score by Alan Menken and Howard Ashman.
Seymour Krelborn is a meek and dejected assistant at a floral shop who happens upon a strange plant, which he affectionately names "Audrey II" after his crush at the shop. Little does he know that this strange and unusual plant will develop a soulful R&B voice, a potty mouth, and an unquenchable thirst for HUMAN BLOOD. As Audrey II grows bigger and meaner, the carnivorous plant promises limitless fame and fortune to Seymour, as long as he continues providing a fresh supply of blood. Just when it's too late, Seymour discovers Audrey II's extra-terrestrial origins and his true drive for world-domination.
2) 11th Annual Cajun Fest - Laramie County Community College
September 23, 2022 / 5:30pm to 9:30pm / $60 for individuals, $600 for a sponsor table
Recover Wyoming Presents Comedian Andy Gold at the 11th Annual Cajun Fest Fundraiser and Recovery Celebration.
3) Brandt Tobler - The Lincoln Cheyenne
September 23, 2022 / 8:00pm to 11:00pm / $25+
Brandt Tobler is returning home to celebrate his 45th birthday with a very fun night of comedy! He will be shooting an hour long comedy special in Philadelphia on September 10th, and then returning to Cheyenne to do a very big birthday show, with some very special guests.
4) Eclectic Cause - Blue Raven Brewery
September 23, 2022 / 6:00pm to 9:00pm / Free
Time for some Classic Rock, Country and Blues! Shagster, Grape Ape and Roger Rabbit are hitting the Raven for what could well be their last outdoor gig of the season. Join your favorite 'Cause' this Friday in the beer garden for some drinks, tunes and all around debauchery. Authentic Israeli food served up by Noam's Table food truck.
5) Friday Night Dueling Pianos - The Metropolitan Downtown
September 23, 2022 / 8:00pm to 10:30pm / $20
Sing, laugh and enjoy a night of music! Doors open at 7:30pm for guests to enjoy cocktails in The Gallery until the show starts at 8:00pm. Limited menu available for food orders during the show and the bar will be open for the duration of the performance. This is a 21 and over event.
Pre-show dinner reservations will fill up quickly! Reserve now!
6) Jim Wilkinson - Black Tooth Brewing Co.
September 23, 2022 / 6:00pm to 9:0pm / FREE
Your favorite country hits from yesterday and today with Jim Wilkinson.
7) 6th Annual End of the Trail Kite Festival - Pine Bluffs Recreation Center
September 24, 2022 / 11:00am - 3:00pm / Free
Enjoy watching Semi-Pro Kite Fliers from the American Kitefliers Association and the Rocky Mountain Kite Association. There will be Large Kites, Stunt Kites, Sport Kites and Single Line Kite Flying. Everyone is encouraged to bring their own kites to fly! Free Kites will be given to the first 100 kids Age 14 & under.
11:00a-3:00p – Kite Show, Kite Vendors, Bounce Houses, Craft Vendors, Food Vendors, Large Kite, Stunt & Sport Kite Flying Demonstrations
12:00p – All Fly for Everyone
Show Stopper Kites will be selling kites on sight and answering all your kite questions! showstopperkites.com
Limited seating so bring your own comfy outdoor chair! Join us for a great day of kite flying, food, shopping, and fun!
8) Charity Chili Cookoff, Cornhole Tournament & More - Blue Raven Brewery
September 24, 2022 / 10:30am - 11:00pm / Free
In support of Cheyenne Community Appreciation Day and two fantastic charities, Blue Raven Brewery is hosting two organizations fundraising via a chili cookoff, a cornhole tournament, and various raffles and auctions throughout the day! Live music will also be on site, and two amazing food trailers will roll in after the cookoff ends to keep our bellies full all evening. The Chili Cookoff, Cornhole Tournament, and all raffle/auction proceeds will be split between these two charities. 50 cents of every beer sold by Blue Raven Brewery on the day of this event will also be donated and split between the two causes.
9) Community Appreciation Day -  Downtown Cheyenne
September 24, 2022 / 8:00am - 9:00pm / Free
Hey Cheyenne we just want to say "Thank You For Your Support!" Let's celebrate this amazing community we call home! Join us downtown Saturday September 24th for Community Appreciation Day! We've got a full day of family fun and activities! Start your morning off at 8AM with yoga at Civic Commons Park with Little Lotus instructor Theresa Hansen. Main event activities will begin at 11AM at 17th and Capitol and will include a rock wall, bouncy house, 20' slide, free face painting, free balloon animals, street magic, $5 pony rides (at the 15th Street Stables) and some super fun activities with our local law enforcement and military organizations. Plus, you won't want to miss all the Oktoberfest vendors and activities happening at the Depot Plaza and the Downtown Mini-Golf Tournament! Then finish out the evening with free popcorn and Encanto at Family Movie Night in Civic Commons Park beginning at 7PM.
10) Community Paint-by-Numbers Mural - Eclectic Elephant
September 24, 2022 / 9:00am - 4:00pm / Free
Magpie Creations is teaming up with the Cheyenne DDA and Eclectic Elephant Antiques for September 24th's Community Appreciation Day! I will be leading a paint-by-numbers mural, and you can join me to paint a turquoise Elephant, a pink Pronghorn, and an orange Jackalope. Come anytime between 9-4, where supplies and materials will be provided to paint. You are welcome to drop in and paint a little, or stay and paint a lot! Looking forward to painting with you all!
11) Community Clean-Up: National Public Lands Day - Wyoming State Parks and Historical Sites
September 24, 2022 / 9:00am - 2:00pm / FREE Admission to State Parks & Historic Sites on National Public Lands Day
The Wyoming State Parks Laramie District will be participating in #NPLD with Community Clean-Up events at Curt Gowdy State Park, the Historic Governors' Mansion State Historic Site, and the Wyoming Territorial Prison State Historic Site. Curt Gowdy's Community Clean-Up will meet at the Camp Russell Day Use Shelter and run from 9:00am to 12:00pm. Join us at 1:00pm for a Guided Hike at Curt Gowdy State Park's Stone Temple Circuit Trail. The Historic Governors' Mansion Garden & Grounds Community Clean-Up will meet at 10:00am at the front entrance to the mansion to assist with cleaning up the lawn and gardens.
12) Learning about Hops (21+) - Cheyenne Botanic Gardens
September 24, 2022 / 2:00pm - 3:00pm / $25
Come learn about the use and history of hops! This is a hands-on class about different hops and beers, and how their combinations taste. Instructor Isaiah Smith will lead the class at the Cheyenne Botanic Gardens Volunteer Kitchen. Pre-registration is required.
13) The Downtown Cheyenne Octoberfest - Cheyenne Depot
September 24, 2022 / Free
This year's event is taking on a cheeky "Hop-toberfest" theme with the combination of Sierra Nevada's traditionally hop-forward offerings alongside Prost's traditional (Reinheitsgebot, anyone?) Germanic lager biers, so no doubt we'll have something for the purists and the modern craft lovers alike!
14) Oktoberfest at Black Tooth Brewery - Black Tooth Brewing Co.
September 24, 2022 / 12:00pm - 11:00pm / Free
CHEYENNE! Get ready for Black Tooth's 3rd Annual Oktoberfest!!! Steins. Boots. German food. Live music. Oktoberfest Marzen. Costumes. Laughs. Space to party (O'Neil Ave blocked off). Raffle tickets. Prizes. We had a GREAT year last year...let's make this one even more memorable!
15) Schwartz Memorial Plunge Benefit Breakfast - Masonic Temple
September 24, 2022 / 8:00am - 10:00am / Donations requested
All proceeds from this breakfast will go to the 10th Annual Schwartz Memorial Plunge. Pancakes, burritos, biscuits and gravy, eggs, bacon, sausage, coffee, orange juice, and milk will be served! This event, located at the Masonic Temple, is sponsored by Invest West Buys Houses and they will donate $10 per person for the first 100 attendees!
16) City Creek Band at Black Tooth
September 24, 2022 / 6:00pm - 9:00pm / Free
We do a little bit of everything! Country, Rock, Pop and everything in between! So if you like cold beverages and a good time, come hang out with us!
17) Farmers Market - Frontier Park Lot B
September 24, 2022 / 7:00am to 1:00pm / Free
What's more refreshing than a leisurely stroll through a farmer's market? Every Saturday, local and regional vendors fill B Lot parking area at Frontier Park in Cheyenne (off of 8th Avenue and Carey) to sell their produce, honey, jams, meat, bakery and specialty items, and so much more. Through October 8th. We accept SNAP/EBT and credit/debit cards.
18) Harvest Festival - Laramie County Library
September 24, 2022 / 10:00am to 12:00pm
Come join us for our second annual Harvest Festival! There will be fall-inspired games, crafts, and treats for the whole family to enjoy!
(Children & Families; 1st and 2nd Floor)
19) Wyoming Cowboys Football VS BYU Cougars
September 24, 2022 / 8:15pm
20) Colt Ford - The Outlaw Saloon
September 25, 2022 / 7:00pm to 11:00pm
Colt Ford, is an American country musician from Athens, Georgia, US, known for his eclectic style that draws heavily on hip hop, with his style being dubbed as 'hick hop.'
21) Marigold Henna, Coffee & Mimosas - Central Café
September 25, 2022 / 10:00am to 2:00pm / $30
We are doing it again! $30 gets you a henna design on hand or lower arm and a medium drink from Central Café.
22) Denver Broncos VS San Francisco 49ers
September 25, 2022 / 6:20pm