Check Out Some Of The Fun Events Happening Around Cheyenne This Weekend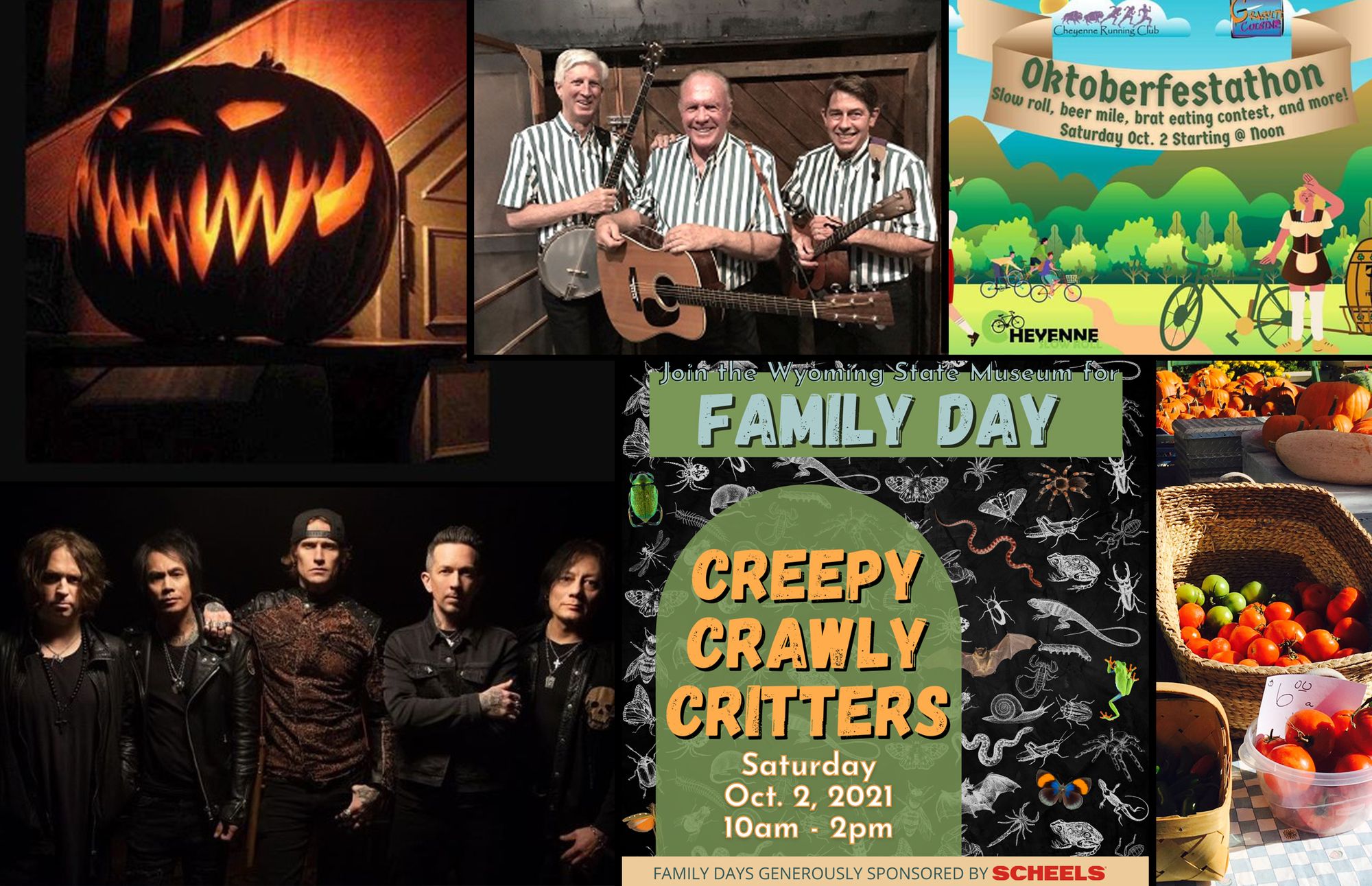 1) BUCKCHERRY LIVE - Outlaw Saloon
October 1, 2021 /  7:00pm to 9:00pm / $20
Buckcherry is coming to The Outlaw Saloon in Cheyenne! Tickets on-sale NOW! 21+ Only
2) MIDNIGHT WEST FEST - Historic Atlas Theatre
October 1, 2021 / 7:00pm to 9:30pm / $7.50 - $40
Midnight West Fest is entering it's third year, and will be taking place at the Historic Atlas Theatre for three days of independent film celebration! Friday night will kick off with live music, followed by an evening of comedy submissions. Saturday starts with High-Noon for our drama and action submissions, rounding out with another live performance. From 6 that night until 3 in the morning runs After Dark, set aside for horror and grindhouse fans. Sunday will be family day, featuring  G and PG equivalent submissions as well as interactive filmmaking workshops for ages 6-14.
3) CHEYENNE TROLLEY FRIGHT-SEEING TOURS - Cheyenne Street Railway Trolley
October 1, 2021 - October 31, 2021 Recurring weekly on Friday, Saturday, Sunday 6:00pm to 10:00pm / $15
From gruesome murders to unexplainable phenomena, this 70-minute tour will leave you wondering what is imagined - and what is truly real. Ages 10+. Two tours depart nightly at 6pm and 8pm. Purchase tickets in advance.
4) NIGHTMARE ON 17TH STREET -  Knights of Pythias Lodge
October 1, 2021 - October 30, 2021 Recurring weekly on Friday, Saturday /       7:00pm to 11:00pm / $10
For 30 years the Nightmare on 17th Street Haunted House in downtown Cheyenne, Wyoming, has been scaring victims. Located in a verified haunted location, the historic Knights of Pythias building, this site brings in an average of 2,500-3,000 attendees for a self-guided experience through 15 horrific rooms setup by members and local volunteers. The individual themes run the gamut from classic scares to modern terror. Every year something new is bound to pop up!
5) BATTLE OF THE BLOODY'S - Freedom of Eagles Lodge #128
October 2, 2021 / 12:00pm  to 3:00pm / $20/advance - $25/door
Come sample Cheyenne's Best Bloody Mary's and vote for your favorite! Proceeds benefit Wyoming Cancer Foundation, Toys for Tots and CASA! Ticket includes samples, vote, and a free Tito's cocktail after the tasting. Lots of bars will be participating and in one location to try them all! Tickets online.
6) FAMILY DAY: CREEPY CRAWLY CRITTERS - Wyoming State Museum
October 2, 2021 / 10:00am to 2:00pm / FREE for all kids and adults
Snakes, spiders, and bats, oh my! Get ready to bug out at the Wyoming State Museum. Join us for Creepy Crawly Critters to learn all about the weird and creepy animals that live among us. We will have something for everyone in the family, from crafts and games, to real specimens of some of your favorite insects and animals!

Grab your magnifying glass and butterfly net and come on down to the museum to enjoy: Information booths where you can learn about bats, racoons, snails, and bugs from real scientists, a creepy crawly obstacle course, a craft station where you can make a bat with flapping wings, a clothespin butterfly, and a tub of slime, an opportunity to take your photo with a real American Alligator, and more!
7) LAINE HARDY MONSTER ENERGY OUTBREAK TOUR - Outlaw Saloon
October 2, 2021 / 6:00pm to 10:00pm / $25
Inspired by artists from Luke Combs and Elvis Presley to Mark Broussard, catch Laine Hardy on his coast to coast tour!
8) OKTOBERFEST AT ACCOMPLICE BEER COMPANY
October 2, 2021 / 11:00am
There will be drink and food specials, music, games, and great times all day! So grab your nicest pair of lederhosen and your favorite drinking buddies to celebrate the most wonderful time for a beer!
9)OKTOBERFESTATHON - Freedom's Edge Brewing Company
October 2, 2021 / 12:00pm - 5:00pm / $20-$25
There will be bikes, brats, beer, and a run. So break out the lederhosen, brush up on your yodeling, and possibly even partake in a little chicken dance. That is right, Oktoberfestathon has arrived!
Events Schedule:
Noon - Pretzel Roll (Bike Ride)
130PM - Costume Contest
2PM - Beers & Cheers Mile (run/walk)
3PM - Big Brat Bruiser Eating Competition
4pm - Mein Stein Holding Contest
Additional Activities:
50/50 Raffle
Kids Coloring Contest
Photo Booth
Pretzel Necklace Making
Sidewalk Art
Color by Number
Pretzel Ring Toss
10) THE KINGSTON TRIO - Cheyenne Civic Center
October 3, 2021 / 7:00pm to 9:00pm / $15-$53
Fans of legendary folk icons The Kingston Trio can re-discover their timeless music all over again.
11) MAMMA MIA! - Mary Godfrey Playhouse
October 1, 2021- October 10th, 2021 / Tickets Required $14-24
The Cheyenne Little Theater Players are performing Mamma Mia from September 24th thru October 10th. A mother. A daughter. Three possible dads. And a trip down the aisle you'll never forget!
12) 2021 CHEYENNE FARMERS MARKET - B Parking Lot Frontier Park
Recurring weekly on Saturday thru October 9, 2021 / 7:00am to 1:00pm
Community Action of Laramie County and the Cheyenne Farmers Market, in conjunction with Cheyenne Frontiers Days, are thrilled to announce that the 2021 Cheyenne Farmers Market will return to B Lot at Frontier Park. CFD has once again generously donated their space for the 2021 Market.
The first Market will take place on August 14, 2021 and will continue each Saturday from 7:00 am to 1:00 pm through October 9, 2021. We look forward to returning to a ten-week market next year.
13) DENVER BRONCOS play Sunday, Oct 3rd at 2:25pm against the Ravens