Bring Some Springtime Sunshine Into Your Cooking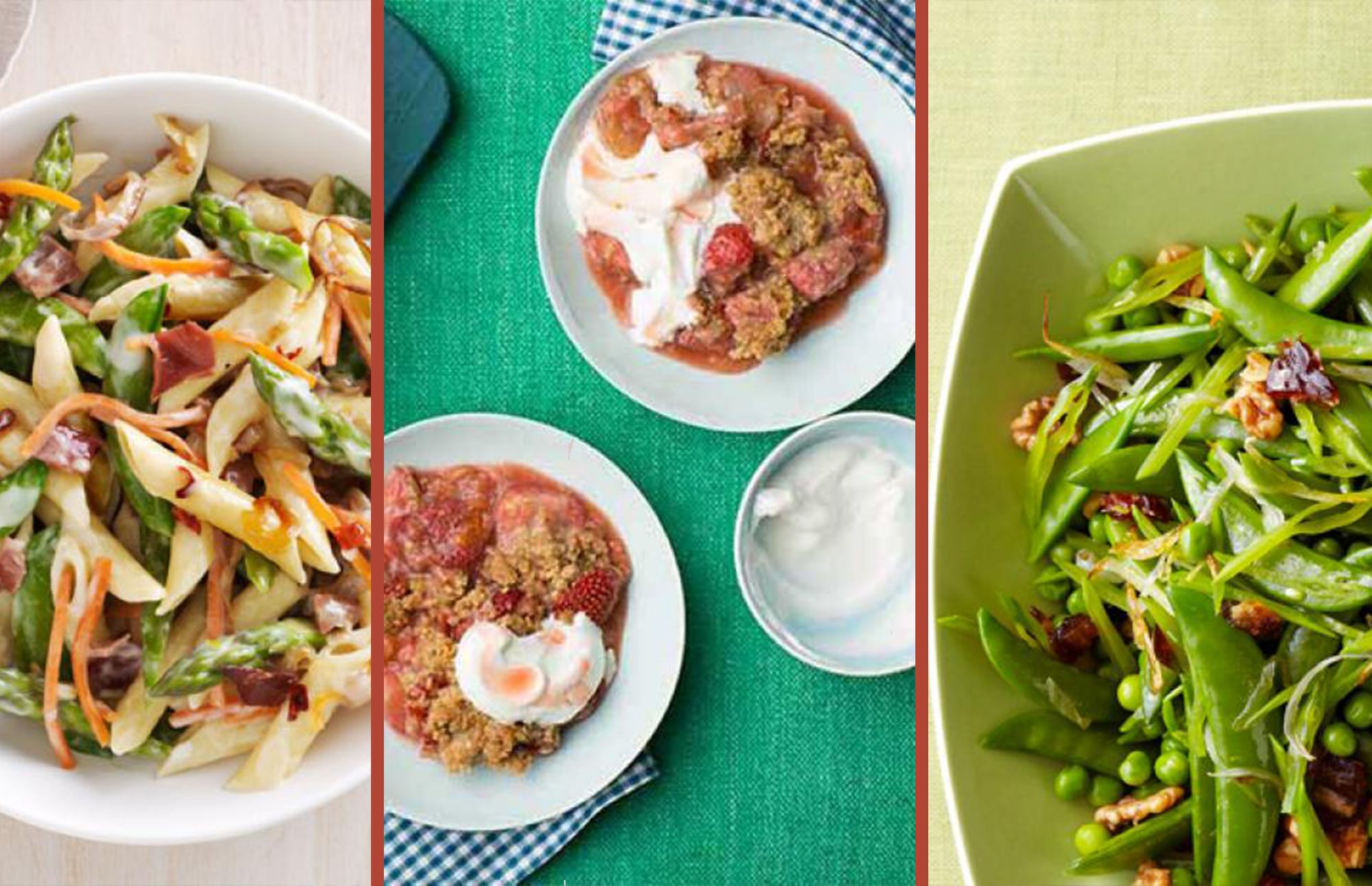 With spring upon us, it is time to transition away from heavy snow coats to light jackets; from warming stews and comforting casseroles to the bright and fresh flavors of spring. Check out these top three recipes to help celebrate the first days of spring with an abundance of crisp vegetables and juicy fruits of all colors.
Primavera With Prosciutto, Asparagus and Carrots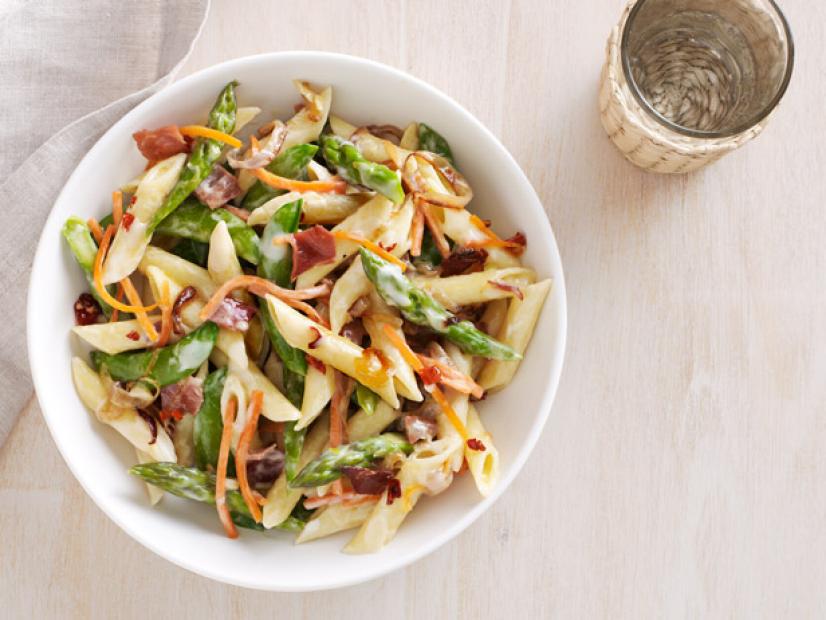 Level: Easy, Total: 35 min
Prep: 20 min, Cook: 15 min
Yield: 6 servings
Ingredients
Kosher salt
1 pound penne or farfalle
1 pound asparagus spears, stems trimmed, cut into 1 1/2-inch lengths
1 large carrot, cut into matchsticks
1 cup snap peas
1 tablespoon extra-virgin olive oil
8 ounces sliced prosciutto, or other high-quality ham, diced
1 large shallot, sliced 1/8 inch thick
1 clove garlic, minced
1/2 teaspoon red pepper flakes
1 cup heavy cream
1 cup chicken stock, preferably homemade or low-sodium store-bought
3 tablespoons dijon mustard
Directions
1) Bring a pot of water to a boil, salt it generously and cook the pasta for 8 minutes; add the asparagus, carrot and snap peas and cook for 3 minutes. Check the pasta and vegetables to make sure they're cooked through but still have texture, then drain.
2) While the pasta is cooking, heat the olive oil in a large saute pan, add the ham and shallot and cook until lightly browned, 3 minutes or so. Add the garlic and pepper flakes and cook until fragrant, 1 minute. Add the cream, stock and mustard and simmer for a minute or two, scraping up any brown bits.
3) Add the pasta and vegetables to the pan. Toss and cook for another 2 minutes, until cooked through and the pasta is coated. Taste for seasoning, add salt if necessary and serve immediately in warm bowls.
Spring Peas With Dates and Walnuts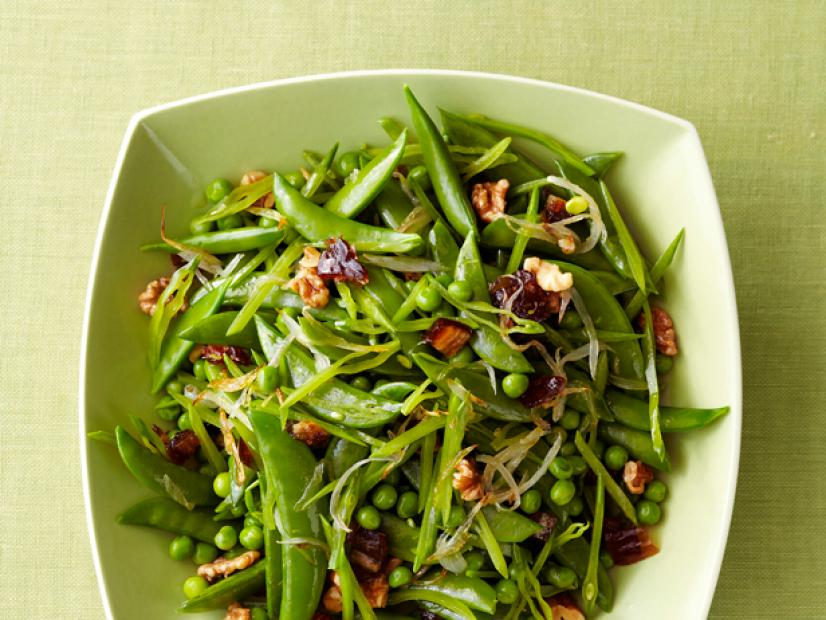 Level: Easy, Total: 25 min
Prep: 15 min, Cook: 10 min
Yield: 6-8 servings
Ingredients
Kosher salt
2 cups shelled fresh English peas or thawed frozen peas (about 10 ounces)
1 pound sugar snap peas, trimmed
1/4 pound snow peas, trimmed and thinly sliced
1 tablespoon extra-virgin olive oil
1 medium shallot, thinly sliced
1/4 cup chopped walnuts
1/4 cup chopped pitted dates
Pinch of cayenne pepper
2 teaspoons walnut oil
Directions
Bring a large pot of salted water to a boil over high heat. Fill a large bowl with ice water. If using fresh English peas, add to the boiling water and cook until tender, about 1 minute. Add the snap peas and cook until bright green, about 2 minutes, then add the snow peas and cook 30 seconds. Drain the peas and plunge into the ice water to cool.
Heat the olive oil in a large skillet over medium-high heat. Add the shallot and cook until soft, about 2 minutes. Add the walnuts, dates and cayenne and cook until the nuts are slightly toasted, about 1 more minute.
Drain the peas, shaking off the excess water, then add to the skillet (if using frozen peas, add them here). Add 1 teaspoon salt and cook, stirring, until heated through, 3 to 5 minutes. Add the walnut oil and toss. Add more salt to taste.
Strawberry Rhubarb Crisp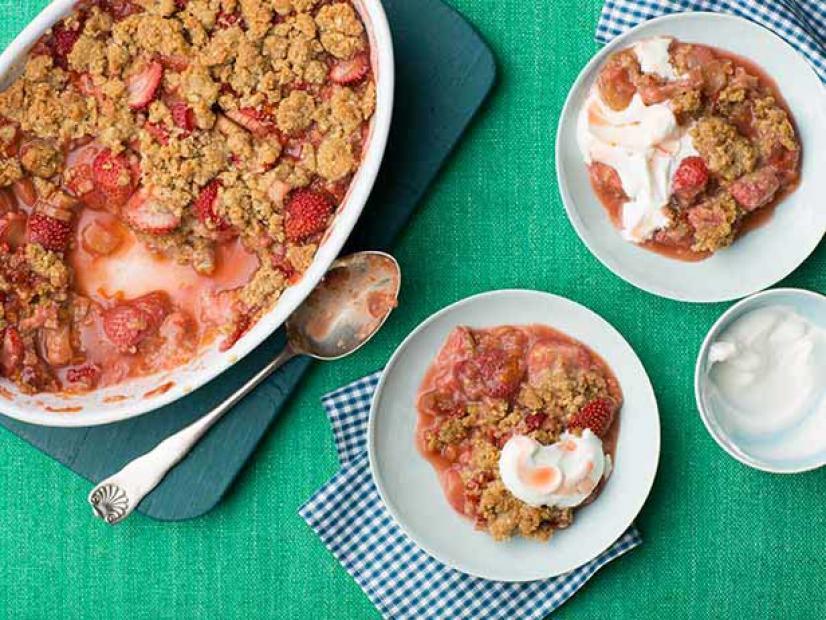 Level: Easy, Total: 1 hr
Prep: 30 min, Cook: 30 min
Yield: 6 servings
Ingredients
Filling:
1 quart strawberries, stemmed and quartered
4 stalks rhubarb, cut into 1/2-inch lengths
1/2 cup sugar
1/4 cup cornstarch
1 orange, zested and juiced
2 tablespoons balsamic vinegar
Topping:
1 1/4 cups whole-wheat flour
1/2 cup rolled oats
1 cup brown sugar
1 1/4 sticks butter, cut into pea-sized pieces
1 teaspoon vanilla extract
Pinch salt
1 to 2 tablespoons water
Directions
Preheat the oven to 350 degrees F.
Filling:
Combine all of the ingredients in a large bowl and stir to be sure everything is well combined. Spoon the filling into 8 individual ramekins or 1 wide shallow baking dish.
Topping:
In a food processor combine the flour, oats and brown sugar and pulse to combine. Add the butter, vanilla and salt and pulse pulse pulse until the mixture looks dry and crumbly. Add 1 tablespoon of water and pulse until the mixture starts to come together and look crumbly. If the mixture still seems dry add 1 more tablespoon of water and pulse to combine.
Crumble the topping over the filling. Bake in the preheated oven until the filling is hot and bubbly all the way through and the topping looks crispy and light brown, about 25 to 30 minutes. Serve warm with whipped cream or ice cream.
It's berry delicious with whipped cream or ice cream, for serving!