Border War, New Frontiers Art Show, Cheyenne Art Walk, Dia de los Muertos and So Much More Happening This Weekend!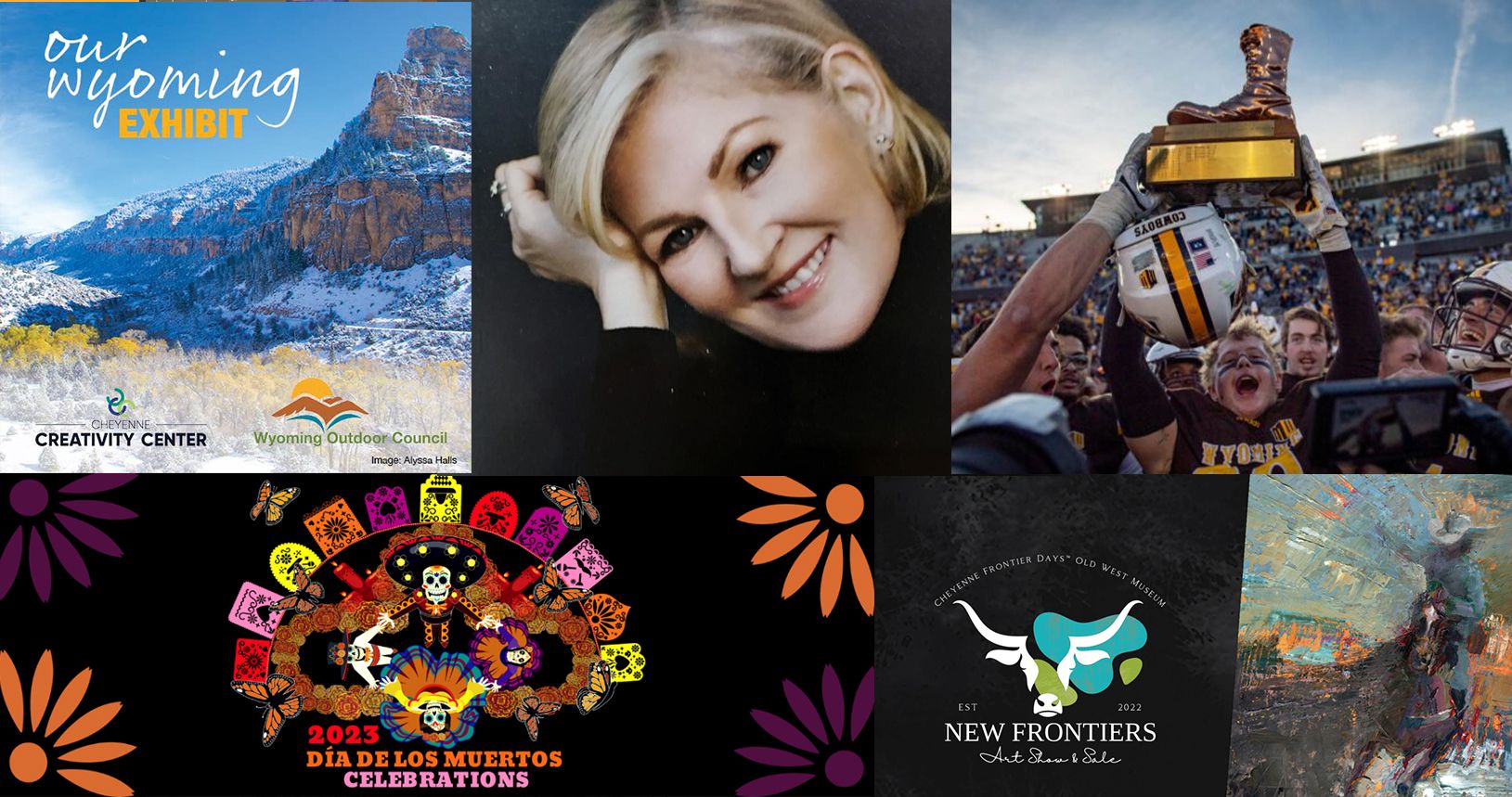 Wyoming Cowboys vs Colorado State Rams
November 3, 2023 / 6:00pm
Alfreda Beartrack Algeo - Laramie County Library
November 3, 2023 / 4:15pm to 5:30pm / Free
Join us for a beautiful and fun storytime with author Alfreda Beartrack Algeo, an enrolled member of the Lower Brule Lakota Nation in South Dakota. Alfreda will be reading her book The Day the Earth Rose Up, which was chosen by the Wyoming Humanities to represent our state at the National Book Festival.
Craig Campbell w/Southern Fryed - Outlaw Saloon
November 3, 2023 / 9:00pm to 11:30pm / $20+
Country star Craig Campbell is back in Cheyenne!
Mersiv- Out of Bounds Tour - The Lincoln Cheyenne
November 3, 2023 / 8:00pm to 11:00pm / $35
Setting out to debut his album, Pretty Dark Loud, Anderson Benoit Gallegos strives to bring people into the present through a Mersiv experience.
New Frontiers Art Show & Sale Opening Reception - CFD Old West Museum
November 3, 2023 / 5:30pm to 7:30pm / $25 -$30
Discover a new Wild West at New Frontiers, the CFD Old West Museum's newest exhibition! The opening reception includes a first chance to get the artwork you're looking for, food, and beverages.
Our Wyoming Exhibit - Cheyenne Creativity Center
November 3, 2023 / 5:00pm to 8:00pm
Join us at First Friday Artwalk for the opening of our November Gallery Show "Our Wyoming" in conjunction with the @wyoming.outdoor.council. For this month, we will be featuring photos that were submitted and selected for the Wyoming Outdoor Council's annual calendar.
Yesterday Once More - The Sounds of Karen Carpenter - Central High School
November 3, 2023 / 7:30pm to 9:30pm / $20 for Adults/Seniors, $5.00 for Students, $50 for entire Family
A celebration of the songs and the sound of Karen Carpenter, told by the velvet voice of singer/actress Joanne O'Brien. Joanne illuminates the musical diversity, pop culture, and political climate of that time in history when the world first fell in love with the magical sound of Karen and Richard Carpenter.
Cheyenne Art Walk - Blue Door Arts/ Art at the Hynds
November 3, 2023 / 5:00pm to 8:00pm / Free
Showcasing art with music by Cheyenne-based Bonamo and a food truck.
Curt Gowdy Plein Air Indoor Show and Sale - Emma's Old Time Photos
November 3rd - 26th, 2023
Enjoy pieces from the recent Plein Air in the Parks! Be the first to see it opening night, November 3rd, during First Friday Art Walk. This month, the Hynds Art Community (including Art @the Hynds, Blue Door Arts, & Ina) will be the featured venue First Friday ArtWalk venue. Bonomo will be providing music, and we expect to have a food truck out front. This show will run through November 26th.
Calico Country Christmas Market - LCCC
November 4, 2023 / 9:00am to 4:00pm / Free
A vast array of handcrafted gifts and décor for the season by local and area artisans.
Cheyenne Dance Club Big Band Dance - Little America Hotel and Resort
November 4, 2023 /7:00pm to 10:00pm
A fun filled evening of listening and dancing pleasure to the sounds of the Don Elwood Orchestra. Beginners, take advantage of this month's pre dance class offering in: Cha Cha for Beginners, with David Urquidez and Michelle Ordes from 5:15 PM to 6PM. Treat yourself or that special someone to a dance lesson, dinner and dance all for one price or choose our ala carte attendance offers: Dance only: $25/person (includes pre-dance lesson). Dinner only: $30/person (for a three course seated and plated formal meal). Dinner and Dance: $110/couple, $55/singles (includes free pre dance lesson). Meal choices for this event: (London broil, Teriyaki Salmon or Vegetarian). Meal reservations are required by October 30, 2023 at 5:00 PM. For more information or dinner reservations contact: David Urquidez at 307-630-6093 or email us at cheyennedanceclub@aol.com or Dusty7hr@gmail.com.
Dia de los Muertos - Laramie County Library
November 4, 2023 /10:00am to 2:00pm
Día de los Muertos is not Halloween! Día de los Muertos is a sacred holiday traditionally celebrated on November 1 & 2 across Latin America and beyond. Join us for joyful and colorful opportunities to celebrate throughout the community!
Family Day - Dia de los Muertos - Wyoming State Museum
November 4, 2023 /10:00am to 2:00pm
Celebrate your loved ones that have passed on and learn about the cultural traditions, folk art, and history of the Day of the Dead!
Learn to Homebrew Day - Black Tooth Brewing
November 4, 2023 /9:00am
Want to learn how to homebrew beer? Come down to Blacktooth in Cheyenne and join the High Plains Drafters to see brewing demonstrations on a variety of equipment setups. Several experienced brewers will be on-site to answer questions and can provide feedback on your process and beers. Cheers!
Lights, Camera, Community Action - Atlas Theatre
November 4, 2023 /6:00pm to 9:00pm / $75 individual tickets, $500 VIP table for 6
Walk the red carpet and pose for your picture among the paparazzi before settling in for a night of drinks, dinner, live music and an auction. Come join Community Action of Laramie County for a night that you won't forget.
Lines of Loyalty - The Lincoln Cheyenne
November 4, 2023 /8:00pm to 11:00pm / $10
w/ Free Fire and Our Own Legacy.
Pottery Class-Harvest Pumpkins - Silver Sage Ceramics
November 4, 2023 /10:00am to 12:00pm / $49.50
Join us for a one-time experience learning how to hand-build a pair of ceramic pumpkins! All levels welcome. Choose your glaze at the end and we will call you after the final firing. Please allow 3 weeks for the process to be complete. Prior Registration Required.
Scarecrow Building Contest and Parade - Frontier United Methodist Church
November 4, 2023 /12:00pm to 2:00pm / Free
Celebrate autumn by building your very own Scarecrow. We will provide the straw, the clothes, either a pumpkin for a head or a paper bag or a head...all you need to bring is your imagination!! There will be a Scarecrow Parade to see what we have all created with some prizes for Most Serious, Most Imaginative and Overall Best Scarecrow EVER.
Turkey Putt 2023 - Masonic Temple
November 4, 2023 /10:00am to 4:00pm / $10 adults $5 kids (3-10)
This indoor event will take you on a putt-putt adventure as you play 18 holes of miniature golf throughout the historic Masonic Temple.
Woodie Procell - Outlaw Saloon
November 4, 2023 /8:00pm to 11:00pm /$5
Former Rodeo Clown, Woodie has his own brand of music. Originally from Louisiana he has a sound that is unique.
Winter Farmers Market - Depot Lobby
November 4, 2023 /9:00am to 1:00pm
Spend a Saturday morning and find the best local foods and crafts.
Write Fiction Like A Pro - Laramie County Library
November 5, 12, 19, 2023 /1:00pm to 3:00pm/ Free
Writers of all skill levels are invited to participate in this interactive writing series presented by Wyoming author and local resident, Mary Billiter. Develop your writing skills within a comfortable, nurturing, and collaborative environment. Learn tips and techniques that will make your writing come alive! Participants will benefit from feedback, inspiration, and instruction from a traditionally published author.