Art, Music, Farmer's Market And More Happening This Weekend!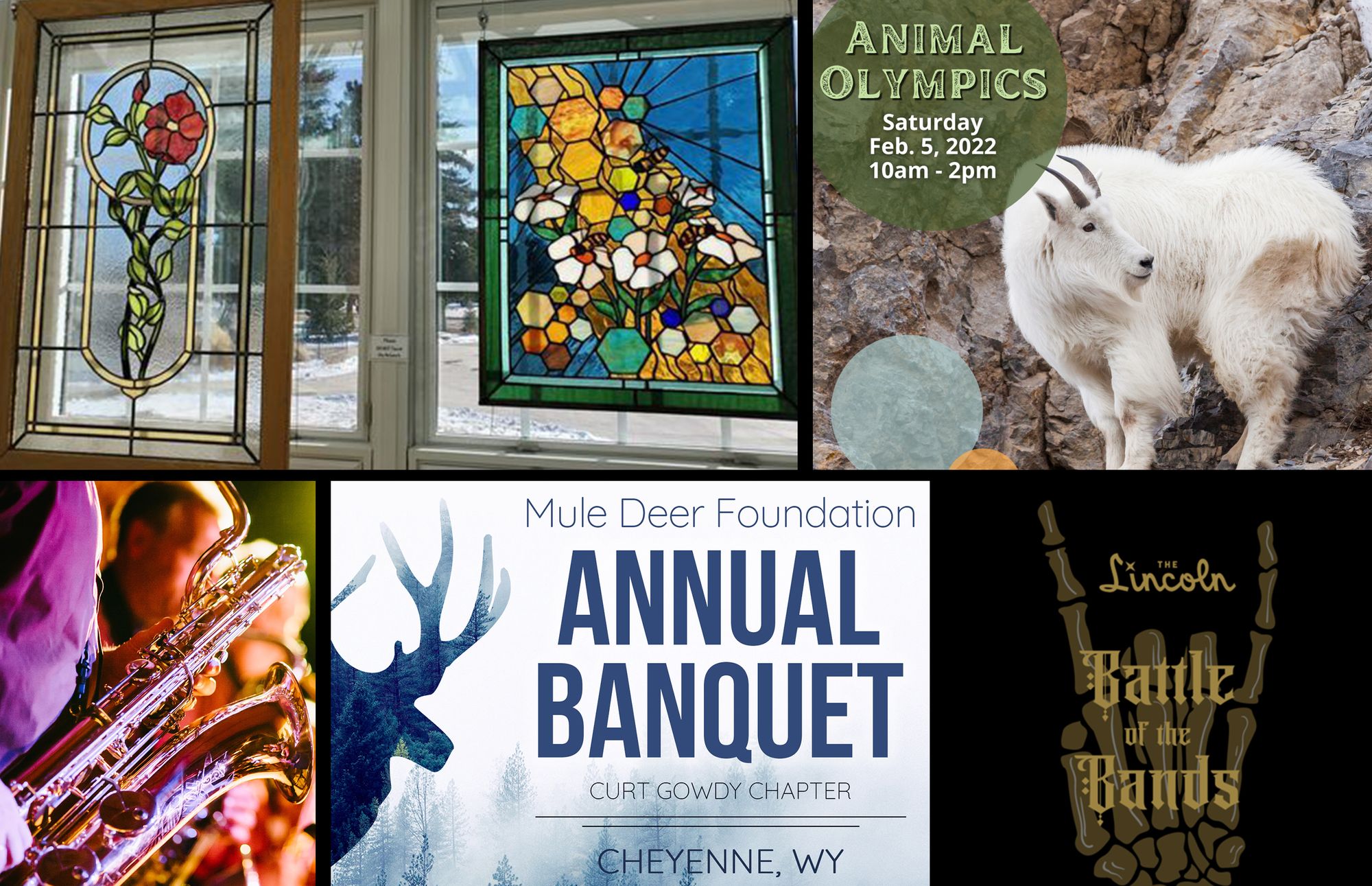 1) 39TH ANNUAL GLASS ART SHOW - Cheyenne Botanic Gardens
February 1, 2022 - April 2, 2022 Recurring weekly on Tuesday thru Saturday / 10:00am to 5:00pm / Free
Come explore the 39th Annual Glass Art Show! This spectacular showcase of regional Glass Artists from Colorado and Wyoming will be on displaying on the 2nd floor Hallway space at the Cheyenne Botanic Gardens. There are many pieces for sale this year so make sure you visit before your favorite piece is Sold! As always the show is free to view and all are welcome to come and look as often as you like!
2) LUNAR NEW YEAR PARTY - Laramie County Library
February 4, 2022 / 4:15pm to 5:00pm
Help us ring in the Year of the Tiger with crafts and activities to celebrate the Lunar New Year!
3) 2022 MULE DEER FOUNDATION ANNUAL BANQUET - Archer Event Center
February 5, 2022 / 5:00pm to 9:00pm / Prices Vary go to muledeer.myeventscenter.com/event/Mule-Deer-Foundation-Banquet-Curt-Gowdy-Chapter-47443
Join us for our 2022 Curt Gowdy Chapter Annual Mule Deer Foundation Banquet. We will have lots of raffles and games to win numerous firearms and other great prizes. We will also have many items up for grabs on both a silent and a live auction. All proceeds will directly benefit mule deer conservation and our great hunting heritage.
4) BATTLE OF THE BANDS: RAP - The Lincoln Cheyenne
February 5, 2022 / 7:00pm to 11:00pm /$5
The Second Annual Battle of The Bands Competition returns with 4 monthly battles of different genres with a winner chosen each night. Cover charge goes to that night's winner as prize money.
5) CHEYENNE WINTER FARMERS' MARKET - Depot Lobby
February 5, 2022 / 9:00am to 1:00pm / Free
Featuring Local Foods and Crafts:
Seasonal Local Vegetables and Microgreens
Local Meats and Cheeses
Take-home bunwiches
Local Salsas
Farm fresh eggs
Fresh, locally baked breads, pastries, pies, cookies, sweet rolls, chocolates and more
Kimchi, Dumplings, and other Korean Foods
Fresh, Local Popcorn
Pasta Sauce
Locally roasted fair-trade coffee and locally blended teas
Locally made rubs, spice blends, and seasonings
Locally produced jams, preserves, relishes, and honey
Fermented Foods
Pet Treats
Natural, locally-produced and organic body care products
Hand-crafted fiber goods, pottery, and other crafts
Live Music
6) FAMILY DAY: ANIMAL OLYMPICS - Wyoming State Museum
February 5, 2022 / 10:00am to 2:00pm / Free for all kids and adults
Can you run as fast as a pronghorn antelope, jump as high as a bison, or climb as well as a mountain goat? At this family day event you'll be able to find out, plus see tons of specimens up close and create adorable crafts to show off at home. To keep all families COVID-safe, we are requiring timed-registration for this event. Please use this link to reserve your one-hour time slot for free!
7) WYOMING BOOK AWARDS BEANSTACK CHALLENGE - Laramie County Library
February 1, 2022 - March 15, 2022 Recurring daily
Wyoming has three book awards to give out and we need your help to decide which books to give them to! Read at least 3 out of 10 nominated books in your age category and vote for your favorite!
8) 2022 Cheyenne Soccer Club Gala - Kiwanis Community House
February 5, 2022 / 7:00pm - 11:00pm / $20-$50
There will be Food & Drinks, Silent Auction, Music and Special Guest Comedian Brandt Tobler.
9) FRIDAY NIGHT JAZZ - Little America Hotel and Resort
Recurring weekly on Friday / 6:00pm to 9:00pm
Music by Jazztet in the relaxing Hathaway's Lounge. Two-drink minimum required.