Art for Art, Dueling Pianos, Bluegrass, Holiday Tea and So Much More Happening This Weekend!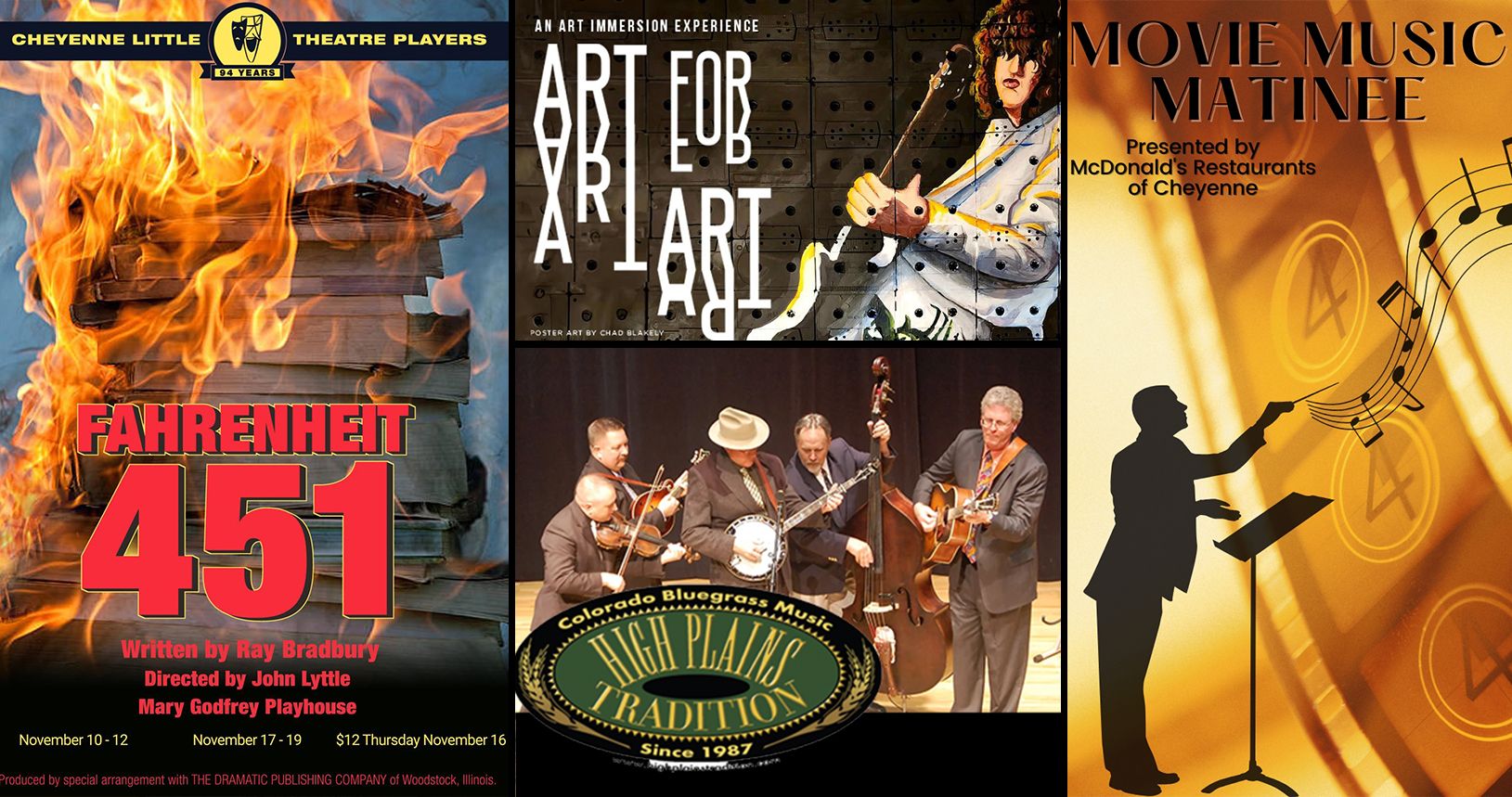 Fahrenheit 451 - Cheyenne Little Theatre Players
November 16-19, 2023 / $12-$29
Fahrenheit 451 is the temperature at which paper ignites. With simple sets and uncomplicated staging, this powerful drama is about the inner struggle of Guy Montag, a fireman. Montag has worked as a civil servant for ten years burning books, but lately he has become increasingly unsure about what he is doing and about his vegetable-like existence. It is not until he meets 16-year-old Clarisse, who is filled with strange ideas, that he is led into a dangerous and highly combustible situation. Now he must choose between continuing his nonexistent existence and risking everything for the right to think.
Art for Art - Immersive Art Experience for Arts Cheyenne - The Lincoln Cheyenne
November 17, 2023 / 7:00pm to 10:00pm / $35
We invite you to experience The Lincoln, like you never have before, at this experiential art event to benefit Arts Cheyenne! Local and regional artists are coming together to create a multi-sensory evening of enjoying art, with an art auction and experience. Select artwork will be featured as part of the "art immersion experience," in which the visual artwork will be accompanied with a piece of music.
Friday Night Dueling Pianos - The Metropolitan Downtown
November 17, 2023 / 7:30pm to 11:00pm / $20
Come laugh and sing along in an evening of musical entertainment directed by your requests! Doors open at 7:30PM. Limited menu and drinks are available throughout the show. This is a 21+ event.
Art Walk In The Wine Country - The Office
November 17, 2023 / 5:00pm to 8:00pm
The Art Walk In The Wine Country features local Wyoming Artist. It is a great opportunity to purchase original art work.
High Plains Tradition: Bluegrass at Its Best! - Surbrugg Prentice Auditorium
November 17, 2023 / 7:30pm to 9:30pm / $20/Adults & Seniors, $5/Students, $50/Family
High Plains Tradition is a highly sought after band for Bluegrass Festivals and concerts across the US, Canada and Ireland. This five-member band plays music that is rooted in the "traditional" bluegrass with a flair of their own. Tickets available in advance at sewyoconcerts.org or at the door.
Tween After Hours: Extreme Hide & Seek - Laramie County Library
November 17, 2023 / 6:00pm to 8:00pm / Free
How many different ways do you know how to play Hide and Seek? Join us for an evening of extreme versions of a classic game! Reserve your spot online. Please note that a signed permission slip from a parent or guardian is required for this event.
Autumn Dried Centerpiece Workshop - Cheyenne Botanic Gardens
November 18, 2023 / 1:30pm to 3:00pm / $45
Create a dried flower centerpiece suitable for your Thanksgiving table.
Crafting with Care: Personalized Leather Wallets and Jewelry Boxes Workshop (Laser Cut) - LCCC
November 18, 2023 / 9:00am to 12:00pm / $40
Unleash your creativity in our "Crafting with Care" workshop, where you'll learn laser cutting and engraving to create personalized leather wallets and jewelry or storage boxes using the Epilog laser system. Explore design fundamentals, material selection, and laser techniques with expert guidance.
Dickens Holiday Tea - Nagle-Warren Mansion
November 18, 2023 - December 16, 2023 / 1:00pm to 3:00pm / $30
Enjoy high tea at The Duchess of Cheyenne. Ages 12+.
Local Music Showcase- All Genres - The Lincoln Cheyenne
November 18, 2023 / 7:00pm to 10:00pm / $5
The Lincoln Cheyenne's new series showcasing local musicians.
Sketchbook Sessions: Bookmark Edition - Cheyenne Creativity Center
November 18, 2023 / 10:00am to 12:00pm / $5
'Sketchbook Sessions' are monthly events for open worktime for artists to drop in and work in their sketchbooks. This is a great time to plan out a project, do some simple doodling, and talk art ideas with others.
Whimsical Zentangle Christmas Card - Cheyenne Botanic Gardens
November 18, 2023 / 10:00am to 12:30pm / $25
Create unique Christmas cards for friends and family!
Winter Farmers Market - Depot Lobby
November 18, 2023 / 9:00am to 1:00pm
Spend a Saturday morning and find the best local foods and crafts.
Wyoming Cowboys vs Hawaii
November 18, 2023 / 12:00pm
CSO's Movie Music Matinee - Cheyenne Civic Center
November 19, 2023 / 2:30pm to 5:00pm /$20 Adults; $5 Students/Kids
Bring the entire family to enjoy music from hit films! Costumes encouraged! Lobby activities begin at 1:30pm. Presented by McDonald's Restaurants of Cheyenne.
Featuring Music From Spiderman, Frozen, Toy Story 2, Video Games LIVE, Star Trek into Darkness…& more
Denver Broncos vs Vikings
November 19, 2023 / 6:20pm