A Helping Hand In A Time Of Need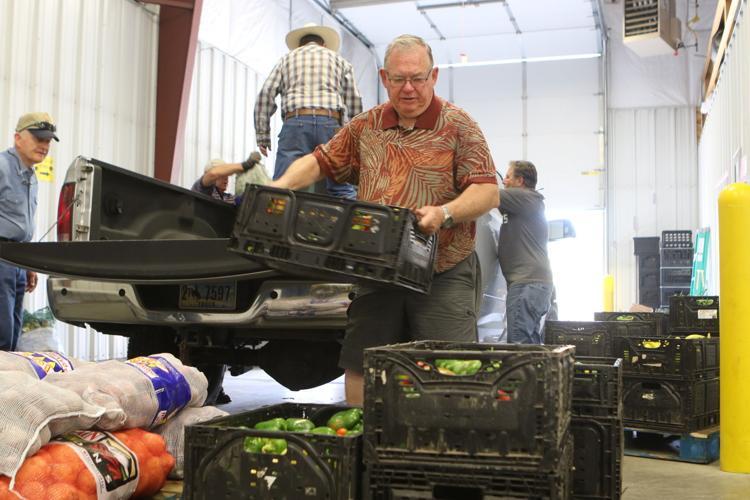 St. Joseph's Food Pantry was able to provide fresh fruits and vegetables to struggling community members with the generous help of the Knights of Columbus, and through their partnership with Miller Farms. Earlier this week thanks to a generous anonymous contribution to the St. Joseph's Food Pantry, four truckloads of fresh produce were delivered from Miller Farms (located in Loveland, CO.). The Knights of Columbus, including our very own Joe Prunty, was on hand to help haul giant bags of produce from the trucks into the pantry. "From pepper to potatoes to corn, onions, carrots - you name it, we've got it," commented Prunty during the unloading of the farm fresh produce.
With the Coronavirus impacting our community, the need for food has increased. Last February, St. Joseph's provided 1,657 boxes of food. In March, due to the virus reaching Wyoming the number of boxes needed jumped to 2,377. In order to help meet this increase in need St. Joseph's is looking for continued support from the community. Renne Gamino, St. Joseph's Food Pantry Administrator, said "We still can use donations, whether it's monetary or nonperishable items."
To donate food to St. Joseph's Food Pantry you can drop it off Monday through Thursday from 10am -1pm at 206 Van Lennen Ave. or at their office at 314 E. Sixth St. If you wish to donate money you can drop it off at 206 Van Lennen Ave. during the above mentioned days and times. You can also mail a check made out to St. Joseph's Food Pantry to P.O. Box 1141, Cheyenne, WY. 82003.
We would like to say "thank you" to everyone that has helped and contributed to the St. Joseph's Food Pantry, and by doing so has helped those in need in our community!