10 Fun Things To Do In Cheyenne This Weekend!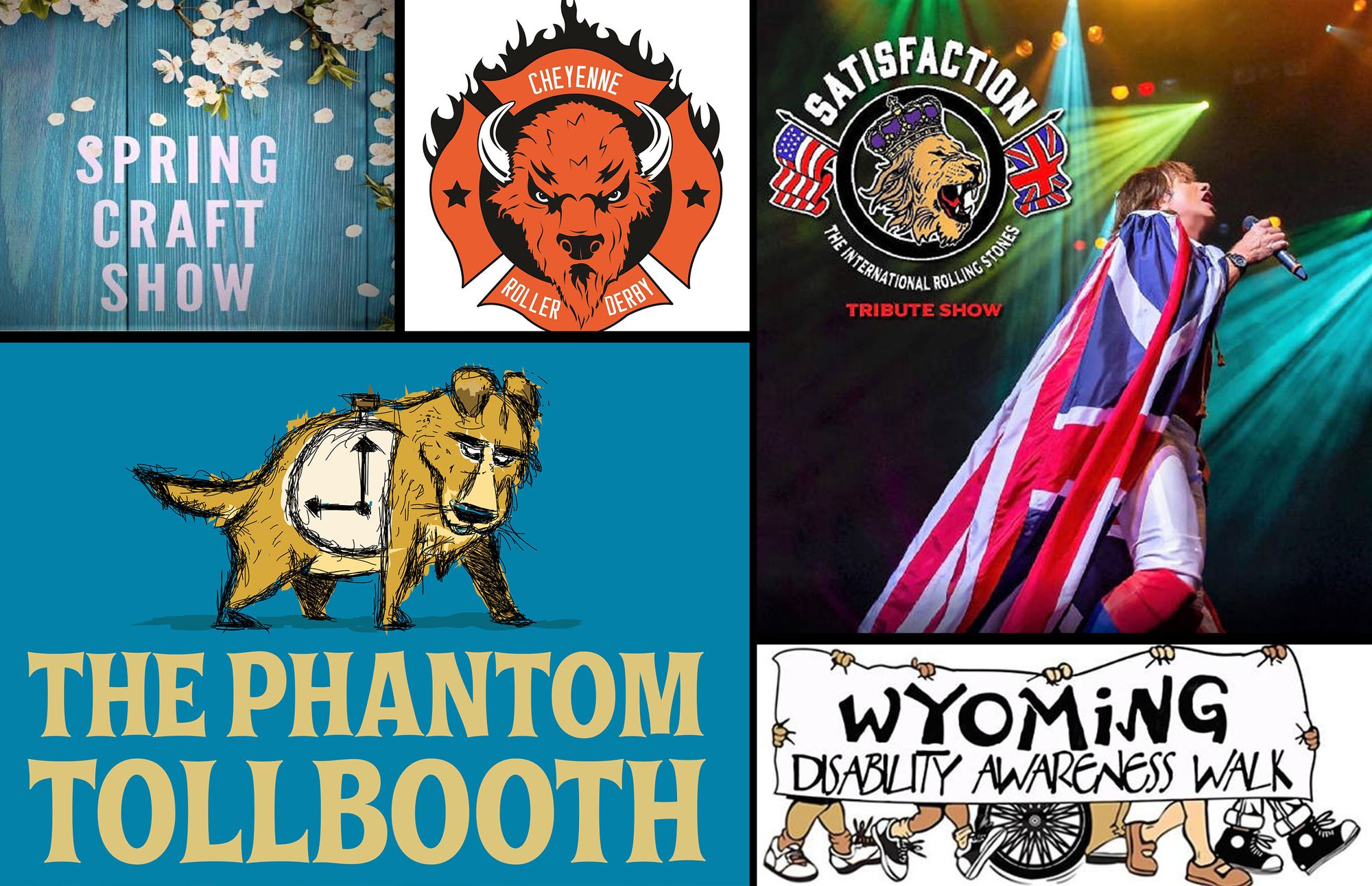 1) SATISFACTION TRIBUTE SHOW - Outlaw Saloon
March 11, 2022 / 7:00pm to 11:00pm / $10
Satisfaction/The International Rolling Stones Show is the international touring tribute to the World's Greatest Rock & Roll band. The likes of Mick Jagger, Keith Richards, and cast bring a colorful, energetic and authentic performance to all of the classic eras of The Rolling Stones.
2) THE PHANTOM TOLLBOOTH - Mary Godfrey Playhouse
March 11-13, 17-20, 25-27, 2022 / 7:30pm to 9:30pm / $12 to $22
Here are Milo's adventures in the Land of Wisdom. Milo learns of the argument between King Azaz and his brother, the Mathemagician, whose disagreement over words and numbers has led to the banishment of Princesses Sweet Rhyme and Pure Reason. Milo is dispatched to rescue the princesses from the Land of Ignorance. The knowledge and skills Milo picks up on his journey help him to save the princesses. Sunday matinees at 2pm.
3) COMEDY NIGHT - The Met Downtown
March 11, 2022 / 7:30pm / $20
Laughter is good for the soul! Get your giggles on at this one and half hour comedy show featuring two awesome comedians.
4) 2nd Annual Spring Fling Craft Show - Archer Complex
March 12, 2022 / 9:00am to 3:00pm
Etched Glassware, Apparel, Canvas Work, Tupperware, Tumblers, Baked Goods, 31, Lemon Grass Spa, Wood Working, Cotton Candy, Cake Pops and many more Crafters and Vendors!
5) "HANDS ON" INTRODUCTION TO STAINED GLASS - Cheyenne Botanic Gardens
March 12, 2022 / 9:00am to 4:00pm / $30
In this 3 hour class by instructor Barb Christofferson of Glass Works Stained Glass Studio, students will learn how to cut, grind, foil, and solder pieces of a sun catcher. All tools, supplies, and instruction are included (even Band-aids). There are two sessions to choose from: 9AM - 12PM or 1PM-4PM. Tickets must be purchased in advance.
6) MAGIC CITY'S DISABILITY AWARENESS WALK - Frontier Mall
March 12, 2022 / 9:00am
Join Magic City as we walk to promote awareness for the wonderful people in our community that live with intellectual and developmental disabilities. We will start at 9:00a.m. with a short presentation and begin the official "walk" through the mall immediately following.

7) CANDY LAND: ROLLER DERBY ADVENTURE GAME - Cheyenne Capidolls Roller Derby
March 12, 2022 / 6:00pm to 9:00pm / $10, Children 12 and younger free
Black Licorice vs. Sno-Caps. You control the game! Change the score, make skaters dizzy, send players to the box, and change the game directions. Portions of the proceeds go to Black Dog Animal Rescue and Yola's Pet Rescue.
8) CHEYENNE DANCE CLUB BIG BAND DANCE
March 12, 2022 / $87/couple, $46/Singles includes dinner and dance
Whether you're 100% Irish or just Irish at heart, St. Patrick's Day is a great holiday for a big celebration. Theme for this dance is 'May the luck of the Irish be with you!' Join us for a fun filled evening of listening and dancing pleasure to the sound of the DEKette Orchestra. For more information or dinner reservations call or email. Dance class offered separately at 5pm. Reservations for dinner must be made in advance.
9) 39TH ANNUAL GLASS ART SHOW - Cheyenne Botanic Gardens
February 1, 2022 - April 2, 2022 Recurring weekly on Tuesday thru Saturday / 10:00am to 5:00pm / Free
Come explore the 39th Annual Glass Art Show! This spectacular showcase of regional Glass Artists from Colorado and Wyoming will be on displaying on the 2nd floor Hallway space at the Cheyenne Botanic Gardens. There are many pieces for sale this year so make sure you visit before your favorite piece is Sold! As always the show is free to view and all are welcome to come and look as often as you like!
10) 41ST ANNUAL WESTERN SPIRIT JURIED ART SHOW AND SALE - Cheyenne Frontier Days Old West Museum
March 5, 2022 - April 17, 2022 Recurring daily /
9:00am to 5:00pm / Admission Included with museum admission
Artwork for the Western Spirit was selected by a two-person independent jury. Jurors Stephanie Hartshorn, a signature member of the American Impressionist Society and artist from the Cheyenne Frontier Days™ Western Art Show, and Mark Vinich, co-founder of Clay Paper Scissors Gallery & Studios, selected 232 unique pieces of art from a pool of 640 unique pieces of art. Western Spirit also features the Vanderwark Miniature Show in the East Gallery of the Museum.